This article will help you understand what a Data Profile is and how it is used.
What are Data Profiles?
When you are using TapClicks, a common goal is to understand and report on how your campaigns are performing. One of the benefits of using TapClicks is that it allows you to scale your reporting and analysis efforts. Data Profiles allow you to choose which Data Sources and Metrics appear on the Reports, and which dashboard/s is visible to specific user/s. In short, it is like approving or denying access to the specific Data Source or Metrics to the user.
In more simple terms, a Data Profile is similar to your Social Media Profile, where you create it and decide who can access your information. Creating Public and Private information on social media and configuring Data Sources and Metrics is similar in a way. When you create a Data Profile you are making it easier to assign access to view certain data across multiple clients, rather than configuring each client to have that same access. It saves you time and reduces your workload when setting up a new client.
When are they used?
Data Profiles have an impact on multiple areas of the TapClicks platform, but the following areas use Data profiles the most:
Dashboards
Visibility of the Dashboard by a user is based on the selections made within the Data Profile. For a given user, a Dashboard will be visible in the section only if the user has been given access in their respective Data Profile. If you remove them from the data profile, they will no longer be able to see the associated Dashboards. As well, if you add someone to a Data Profile, they will then be able to see those Dashboards. You can always override the Data Profile at the specific user level.
Data Source Overview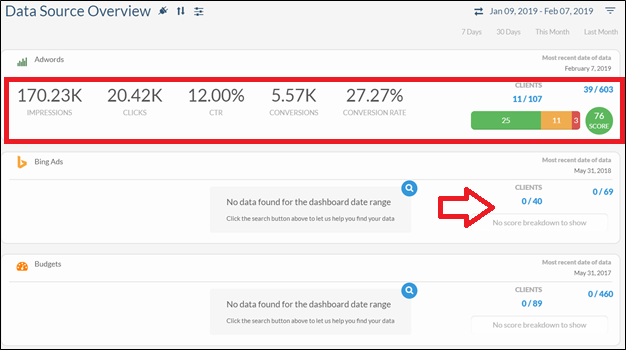 Quick/Schedule Reports
In the screenshot above, you can see that there are different metrics in every Report. These metrics are visible because they were selected while creating the Data Profile. Only the selected Data Source and selected Metrics will appear on the Quick Reports and Data Source Overview. To show or hide metrics for a particular user, select your metrics within the Data Profile as you are setting it up/assigning it to a user.
For example, if you are working as an Account Executive, you might choose not to show metrics that will display cost/spend to the end client. Likewise, carefully select the metrics you want to show while creating the Data Profile.
Now, let us look at the process from the starting point.
Create a new Data Profile
Select Data Profiles from the left hand navigation menu and then click the plus sign (+) next to the Data Profiles header.

You will see 4 tabs: Settings, Dashboard, Data Sources and Channels
Settings tab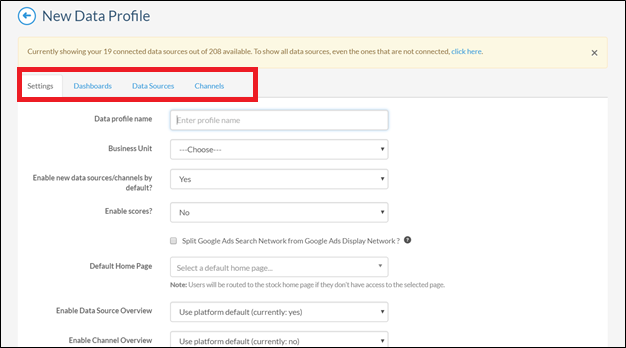 Settings:
Name your Data Profile.
Select Business Unit. If you do not use Business Units or do not wish to assign at this time, you may leave this blank.
Indicate whether new Data Sources will be enabled by default. If you enable new Data Sources to be included, then when you add these new Data Sources they will automatically be visible to the existing users of this profile.
Indicate whether to enable Scores.
Check the box if you want to split Google Adwords Split Search from Google Ads Display Network. Unless you need to add Margin/Markup to one product versus another, it is suggested you do not check the box.
Select the Default Home Page from the dropdown. This will be the page a user will land on when they log into TapClicks. The default setting is to have users land on the Data Sources Overview page. It is recommended that you change this to a dashboard relevant to the expected users. Dashboards often have more compelling views of the data than the overview page. For internal users, you may want to have them land on the Connections Status page, where information about all your Data Sources is summarized. Select Yes if you want to Enable Data Sources Overview. We typically suggest leaving these enabled for internal users and disabled for your customers. You have full customization in the dashboard, so it is more ideal to direct your customers to a dashboard.
Select Yes if you want to Enable Channel Overview. Channels allow you to group Data Sources together and define which metrics are shown to your customers. Similar to Data Source Overview, this might be better left enabled for your internal users and disabled for your customers.
After entering all the details, click Dashboards tab.
Dashboard tab
Under the Dashboards tab, select the Dashboard you wish to associate to this data profile. When you click the white space, you'll see a list of Dashboards you have access to. After selecting the desired Dashboard, click the Data Sources tab. This step is not necessary and you may skip it, if you choose.

Data Sources tab
Select the Data Source that you'd like to configure.
Note: Your active Data Sources are indicated by a green dot.
Just below the Data Source name, you may select Yes if you want to include this Data Source in your Quick Reports. The Quick Reports are connected to the Data Source Overview and will display whatever metrics you select from this list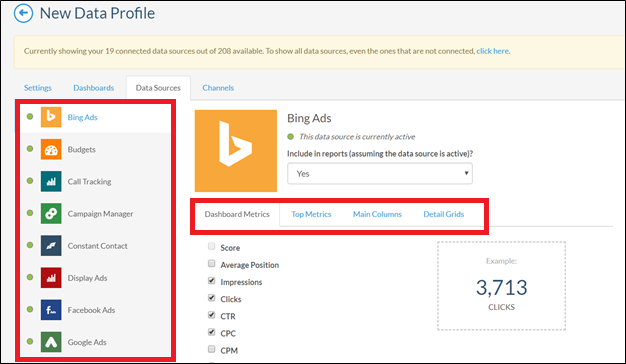 You will find 4 tabs under the Data Source menu.The Dashboard Metrics tab will be selected by default. Please configure the these tabs as per the Data Profile requirement.
The Dashboard Metrics are the metrics that appear in your Data Source Overview.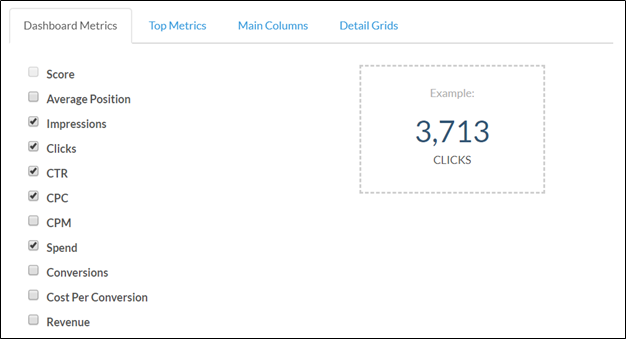 The Top Metrics are the data insights that appear at the top of the campaign level view in your dashboard. You can view these by clicking on the Data Source icon within the Data Source Overview—it will allow you to drill into Campaigns, Geo Fences and so on.

The Main Columns are the metrics that appear in your dashboard grid and reports.

You can select sorting and order priorities.
You can limit the Data Grids by entering a number in the white space provided.
Active columns are selected by default. You can add or remove columns as per your Profile needs.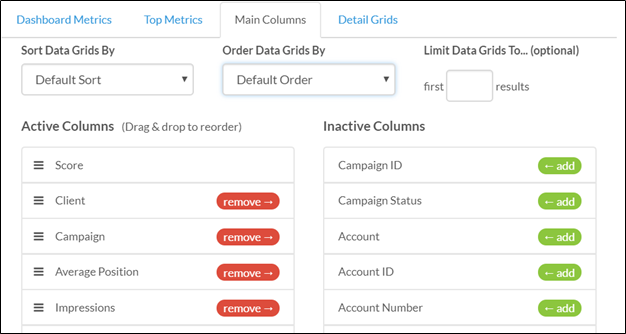 The Detail Grids tab is divided into multiple parts based on the levels of data we receive from the source platform. You may configure the these options as per the Data Profile requirements. You will notice a Channels tab on the top ribbon—you may enable/disable metrics for channels the same way you have done for your Data Sources.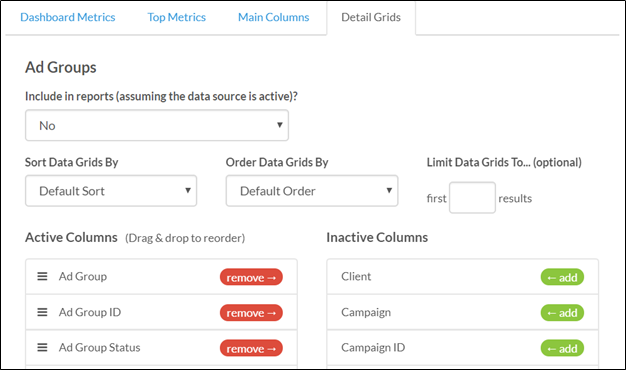 Channels tab
Under the Channels tab, you'll find tabs below the Channel name. They are similar to what we configured in Data Sources tab. Please configure these tab as per your requirement.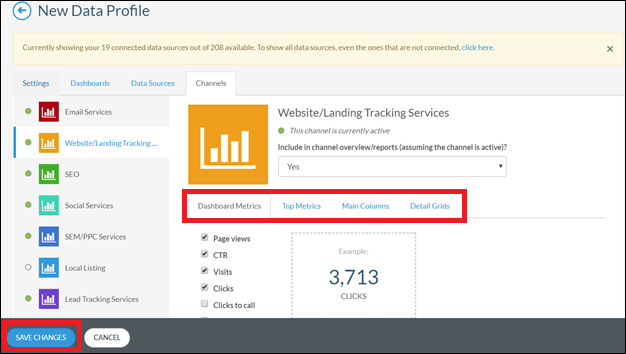 Click Save Changes to configure your Data Profile. You will now be able to see these selected metrics in the Data Source Overview and Quick Reports!