What is a Channel in TapClicks?
A Channel is a combination of one or more data sources. For example, you may have a campaign where you want to bundle together impressions from across multiple sources, such as Facebook, Twitter, Instagram, and Search. In traditional reporting, you would need to go to each source, export the data, then compile it into a single metric. The Channel feature in TapClicks allows you to select these metrics from across all your connected Data Sources and create a new metric. In this case, you could create a single "Impressions" metric that includes all of the aforementioned sources. This accomplishes a few things:
It can be used to quickly and easily summarize data for an overview
It reduces the time needed to compile data from multiple sources
It can obscure specifics related to your work in the event you bundle services
Are there predefined channels?
Channels allow you to combine multiple Data Sources and define what metrics are shown and how they are visualized in your dashboards. Please note that predefined Channels already exist within the dashboard. They are:
Email Data Sources
Website/Landing Tracking Data Sources
SEO
Social Data Sources
SEM/PPC Data Sources
Lead Tracking Data Sources
Display Data Sources
What is a Custom Channel?
Custom Channels allow you to select amongst data from multiple sources to create a new data source you can use in your Dashboard. One of the most common examples of this is combining Google Analytics and Google Adwords data. Each of those are a unique Data Source. By creating a Channel you will be able to generate insights in your Dashboards that displays these data as a single source. You will also find predefined Channels in the Dashboard. You can use either predefined Channels or create one of your own. 
How to create a custom channel
Follow the steps below to build channels that help you achieve your reporting goals.
Click Administration in the left pane
Click Channels under Data Settings
Click plus sign (+) next to the Channels header
Enter a Channel name
Choose the Data Sources that you want to include in the channel. In the example mentioned above, these would be Google Analytics and Google Ads.
Choose the Color for the channel tile
Click into the colored square to choose an Icon from the library. Some users may want to customize this or use it as a way to obscure the specific data being presented. 
Check the box if you want the system to Automatically create channel metrics. 
Note: If you check this box, the system will automatically create metrics which are common between Data Sources. Think of this as an auto-mapping feature. For example, if you check this box and select Google Ads and Facebook Ads as Data Sources system will automatically select common metrics like Client Name and Campaign Name without you selecting it manually. 
Click Save changes
Next, the dialogue box Building Data Views appears on the screen. Data View means a type of data you would like to pull into the channel. These will be specific to the Data Source you have selected. For example, if you select Facebook Insight as Data Source, you can choose either Pages, Post or Lifetime Demographics as Data View and only that data will be pulled in this Channel.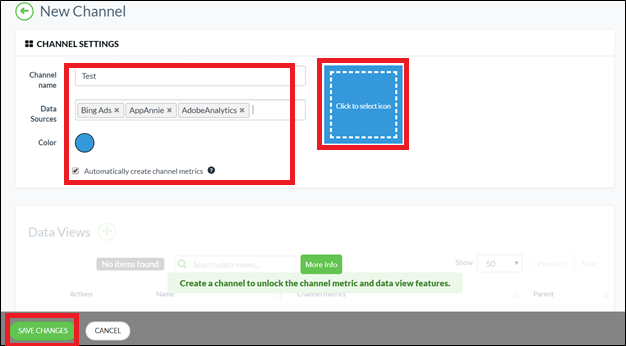 Note: if you allow the system to automatically create Channel metrics, you will see a bunch of metrics populate under Data View.


How to choose the Metrics for channels
Click the pencil icon in line of the Channel name
Click the plus sign (+) next to the new Data View you created
Create your Metric name
Select the Data Type
Select the Metric from the Available Metrics dropdown
Click add to make that metric active
Click Save changes to save the Channel Metric
Note: Repeat steps 2 to 7 for every Metric
Now your Channel has been customized. TapClicks will start generating Reports as per the Metrics you have chosen.  
What is the Channel Overview page?
Much like the Data Sources Overview, the Channel Overview allows for you to see all of the Channels in one place with high level metrics.
You can also set this as the homepage for users if you want them to login and go to this screen instead of the Data Sources Overview. 
How to specify Data Views for Channels
After creating a new Channel, you need to specify the Data Views. This is how you define which metrics are available for use within the dashboards and at which levels they will be available. This will behave the same way as any standard Data Source.
Click the plus sign (+) next to Data Views
Name your Data view.
Select the Service Views you intend to combine from the individual drop down menu.
Click the add button next to the drop downs to add them to your new data view.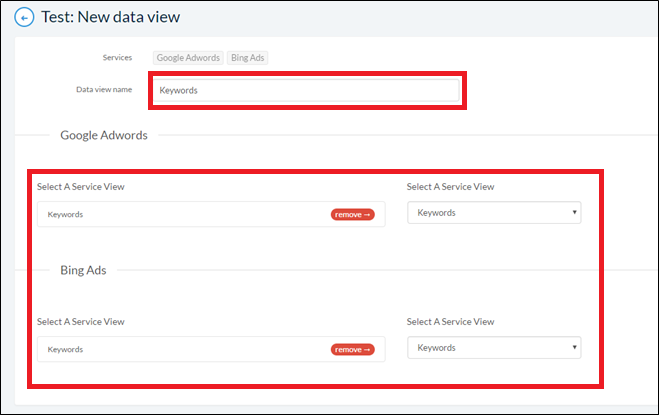 Click Save changes.
How to configure Data Views
Click plus sign (+) next to the Data Views header
Name your Data view
Select A Data Source Views from the individual dropdown
Click add next to the dropdown to add them to your Data view
Click Save changes
After completing the steps above, you can see the newly created Channel
The Channel has been created but there's one more thing you need to configure. Configuring Metrics for the Channel will enable you to get the Reports in your desired format.   
How to add Channels tab to Data Profiles
Click Administration
Click Data Profiles
Edit your Default Profile or create a new Data Profile by clicking the plus sign (+) next to the Data Profile header.
Once in the Data Profile you will see a new tab titled Channels, click that tab.
In this tab you can control what metrics appear as Dashboard Metrics, as Top Metrics and in the Main Columns
Click on Save changes when you are done with all your edits and you're done!
Troubleshooting channels
Why are some metrics missing when I create a channel?
When creating metrics within a channel you chose the Data Source you want to pull metrics from. The system will only pull the Main Column metrics of the Data Source and not the lower level Detail Grids.