What is Report Studio?
Report Studio is a pixel-perfect reporting solution that enables you to easily customize and share reporting with your stakeholders. All you have to do is create or upload a presentation template, configure it for the story you want to tell, and then schedule it to deliver. Your data will be updated into the report automatically.
The Report Studio is easy to use and lets you quickly and easily create reports without needing to get a degree in Graphics Design. There are all kinds of stylization and customization options, along with page orientation, color palettes and even a keyboard shortcut for fellow geeks. Turn on the grid for easy placement of objects, apply backgrounds and logos to every single page with a click of the mouse, move items to the foreground or background.
Create a new report using a template
In the left sidebar, click on Reporting
Then select Report Studio
You will see several template reports to choose from 


Choose from amongst these pre-designed reports, or
Select the "+" sign near the top of the page to create a new report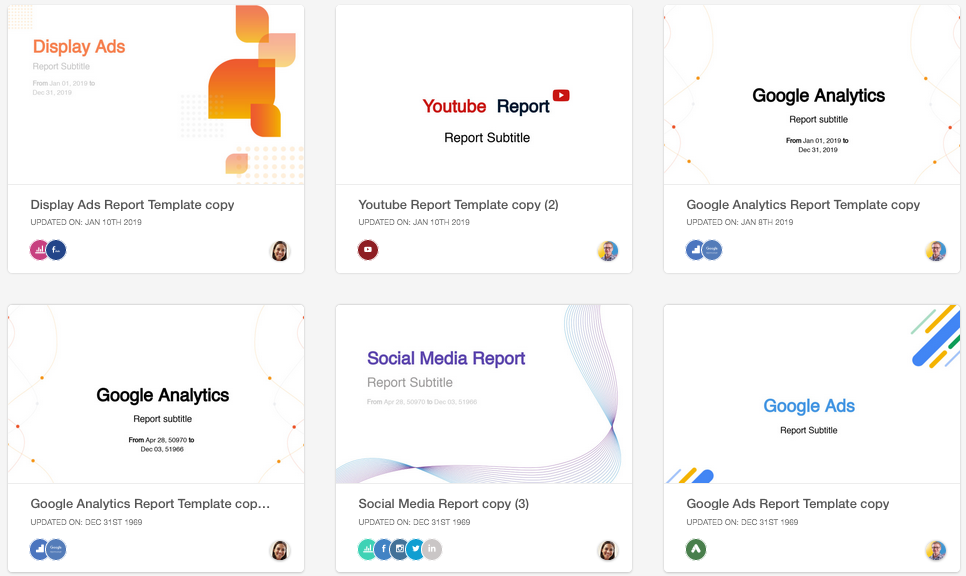 You can choose from a gallery of rich reporting templates crafted by our data scientists or build your very own custom report from scratch. 
Create a new custom report
If you want to build your own report instead of modifying one of the TapClicks custom-designed templates, simply navigate to the Report Studio page and select the "+" sign near the top. This will take you to a page that looks like this: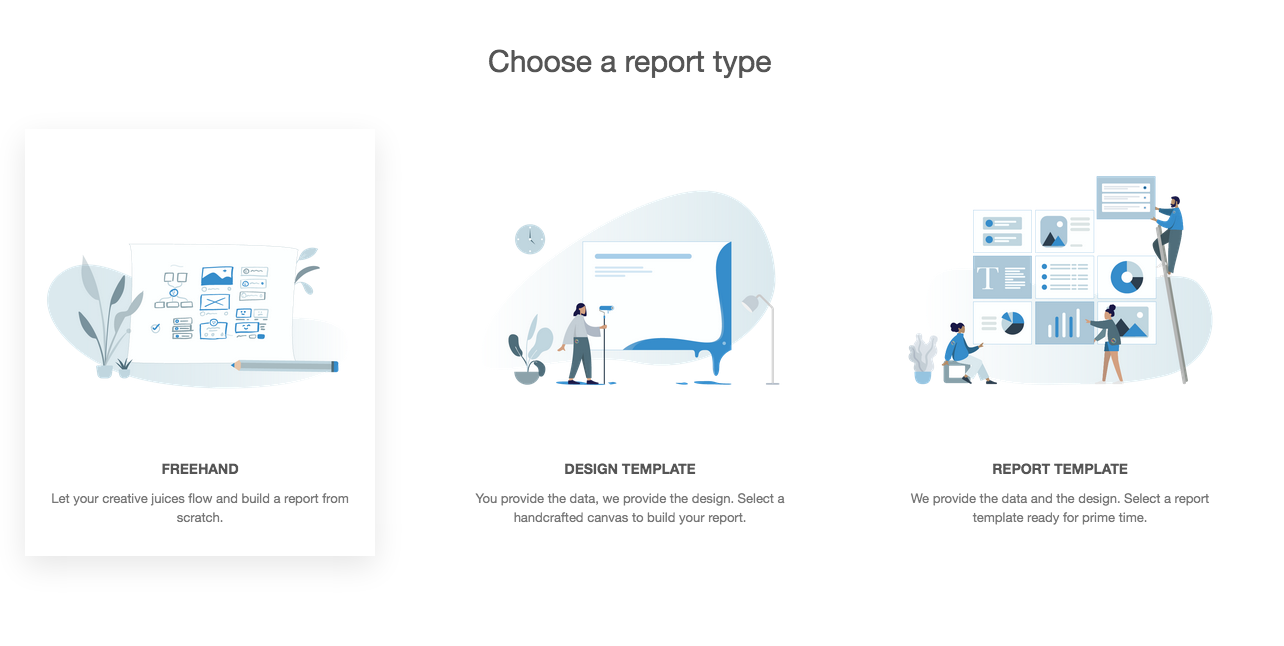 There are three options for you to choose from:
Freehand
Design Template
Report template
Freehand reports
When you select the Freehand option, you will be asked to create a report from scratch. This will open into a blank canvas where you can add and customize elements similar to building a presentation.
Design Template reports
Design templates are pre-loaded presentations that speed up the process of crafting your data story. When you select Design Template, you will be shown a list of several  themes to choose from. Just like creating a presentation from a previous deck, all you will need to do is connect your data sources and build out the story, adding or removing elements as you see fit. 
On the left side of the screen, you will see the pages in the template, each showing the elements pre-loaded onto them. When you select a page to edit, you can add or remove any element to help tell your story.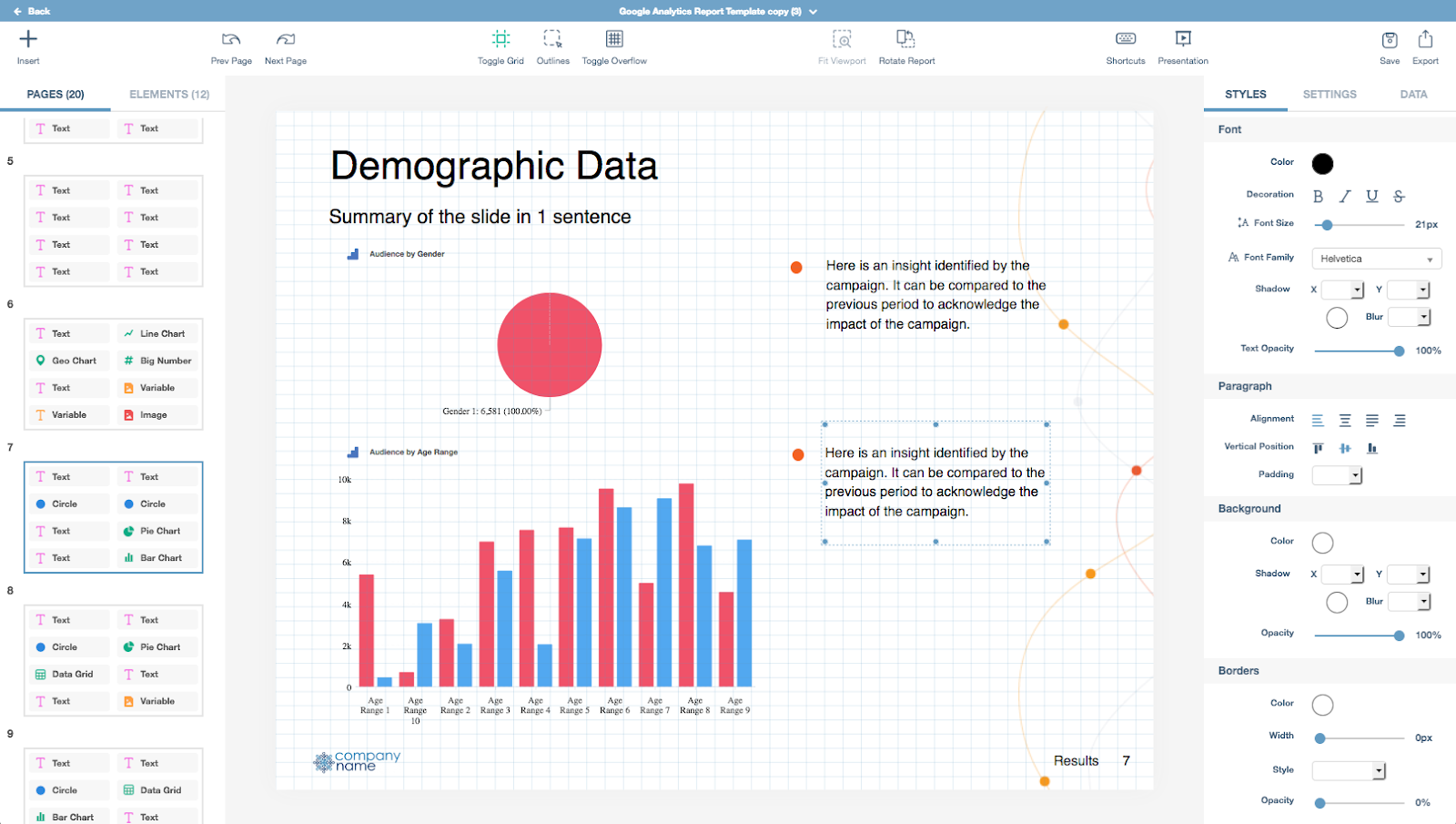 Report Template (Best)
Report Templates come in handy when you need to quickly tell a story for a given data source or marketing activity. These pre-designed reports are organized by channel (YouTube, Facebook Ads, etc) and/ or activity (SEO, Email, etc). 
If you are new to a channel and want to see best practices in reporting, you can quickly setup a Report Template and deliver your value to stakeholders.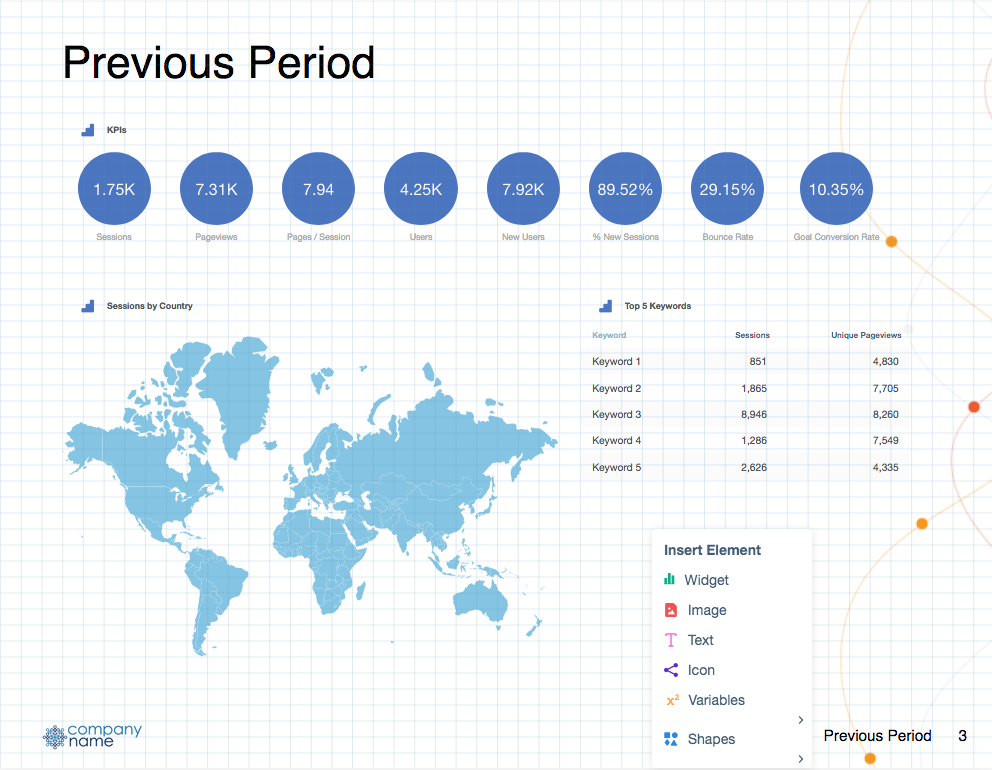 Share your report
After you have customized the look and feel of your report template to include white labeling your company logos or recipient names, you need to share the report with stakeholders. You can share the report as a PDF or PowerPoint. 
You can also publish your report and make it available via a URL. 
To share or publish your report, 
Navigate to the top right corner of the screen
Select Publish to generate a link that can be shared
Select Export to create a file you can send to your stakeholders