What are Dashboards?
After creating your first Dashboard with Widgets, you will be able to start displaying insights from your connected data sources. It is a best practice to utilize the same dashboard for as many clients as possible, allowing you to unlock the full value of the platform. For example, if you have multiple client reports that all view data from the same applications (such as Google Display ads and Facebook display ads). By creating a single Dashboard to use for all these clients, you can scale your reporting operations. This article will show you how to create a Dashboard.
How to create a new Dashboard
Log on to TapClicks platform
In the left pane, click Dashboards and then click Add/Manage Dashboard
On the Manage Dashboards screen, click on the + sign next to the heading
On the New Dashboard screen, you will see several Dashboard templates. You can use these or create your own.To create your own, click Create New Dashboard icon,near to the Search box

Enter Title, select Data Profiles and Business Unit from the dropdown. If you do not have Data Profiles or Business Units configured, you can leave these blank.
Select the name of the client in By Client field.
Select Font Size and Chart Color. The color chart is used to both align the reporting to your brand colors, as well as determine which order colors will be displayed on graphs. The first color in the row will be the color of the first line of a graph, the second will be the second line, etc.
Click SAVE to save changes and your first Dashboard is now created.
How to create a widget
After creating a Dashboard, the next step is to create a Widget. Widgets are the graphs and tables used in reports. Without a widget, there won't be a way to display your data. Once you create a widget, you can assign it a Data Source. For example, if you want to show impressions from Google Analytics, you will first create a widget then add the Google Analytics Data Source and choose Impressions to display in the widget. Once you create a widget, you will be able to see your data on the dashboard. Let's walk through the steps to create a widget:
On the Dashboard screen, click CREATE YOUR FIRST WIDGET
On the next screen, you will have multiple options to create your Widget. There are three types of Widgets: Admin, Media, and Data. This example will show a Data Widget.
Click Data Widget in the top left corner and your new Widget will appear on your Dashboard
Choose your Widget type.Widget types are essentially different types of graphs.In this example, we will create a bar chart.
Enter your Title, select Data Category and Data View from the drop down. The Data Category is the application where the data comes from. The Data View is different for each Data Category and is based on how information in that application is structured.
Select Metrics, Dimensions and Time By
To configure your Widget,click Styles next to the Data  tab
Select the style for your Widget. You can preview the changes in the Widget immediately.
If you wish to use existing templates, click Templates next to the Styles tab
Select any template from the list
Click Save and you're done!
After creating Data, Media or Admin Widget and saving it, the newly created Widget will appear on your Dashboard.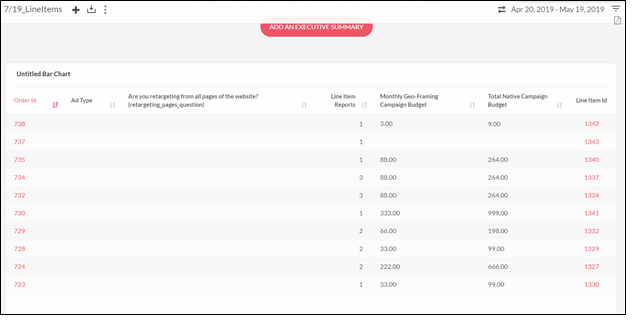 Your data will start populating the Widget and you will be able to generate Reports for your Clients. 
How to edit an existing Dashboard
To edit an existing Dashboard,
Open the dashboard you want to edit.
Click the  icon and click Edit Dashboard.
Edit Dashboard window appears.
You can edit Dashboard Settings, Data Pre-Filtering and Look and Feel of your dashboard.
Click Save after editing.
Your new settings will be applied to the selected dashboard.
What are Dashboard Templates?
TapClicks offers predefined dashboards to help you visualize your data. These dashboards come as a standard feature for all TapClicks users. The dashboards reflect channel-specific KPIs and metrics based on industry best practices, and they were put together by industry analytics experts.
After logging in to TapClicks platform, you can see  Dashboard Templates section in the left pane. There are various options like Data Source Overview, Leads Dashboard, Social Dashboard listed there. 
When you click on any option, it opens up a visually appealing dashboards with relevant widgets. This is our new widget architecture, which can tell your marketing story more effectively. 

All these widgets are interactive. You can add or remove widgets from the dashboard to suit your needs. You can also change the look and feel by clicking the icons on top of every widget.  You can do analysis, see how you are performing and create dazzling reports by using these widgets. 

So how to use these dashboards? Just connect your Data Sources like Facebook ads, Google Adwords or Bing ads and and TapClicks will get them on your instance. Make a copy of the predefined dashboard and then use it as your new dashboard. 

When working as an agency, you want to tell your clients how your campaign is performing without telling them which different platforms you are using. This is where these dashboards will help. There is no mention of on any of the widgets. It just displays the performance metrics. There's no mention of any platform at all.