Did you know? OneView was previously known as dataXu and is owned by Roku.
Before you begin: The OneView connector uses an AWS S3 connection which pulls data into TapClicks via a single data file and gets delivered daily by the team at OneView. Additionally, a metadata file is delivered which contains the mapping values. In order to create the individual data views, you will have to use a unique combination of dimensions to parse the data out of the single file. By default, there are four views you'll get upon connection:
"Campaigns"
"Tactics"
"Flights"
"Creatives"
In order to allow for ease of connection, TapClicks has built out eight additional views, which are supported by additional fields that can be added to OneView files. If these "predefined views" meet your reporting needs, you can reach out to your OneView Customer Success Manager to request that these specific fields be added to existing files.
"Page Details"
"Devices and Browsers"
"Activity"
"Geo"
"Application"
"Device and Vendor"
"Audience"
"Time of Day"
Once these fields are present in the files, TapClicks can enable the view(s) on the client's TapAnalytics instance. If the data that a client is looking for is not included in the predefined views, then TapClicks can go through the standard process of creating an additional views or adding additional fields.
Note: Feel free reach out to your Customer Success Manager with any questions that you have around this procedure.
Instructions:
Set up OneView Data Source
1] Reach out to OneView for data by sending an email request to your OneView Customer Success Manager. Be sure to cc your TapClicks Customer Success Manager, as well as this email address: connectors@tapclicks.com. You can send them this template which shows the fields required for TapClicks.
NOTE: The template populates the four standard views. Columns in the report template must be exact to work with TapClicks. Columns must be included even if you don't want a report on those items.
2] OneView builds the data file which meets the agreed upon requirements and builds the delivery to the S3 bucket according to the following format:
Folder Name = [string]
Mapping File Naming Convention = "metadata_[string].csv"
Data File = "[string]_daily_tapclicks_YYYY-MM-DD.csv"
3] OneView shares the S3 bucket directory name by providing you with "Credentials" = [string].
Integrate OneView Data Source into TapClicks
4] Login to TapClicks and on the Data menu, click Data Sources.
5] The menu of data sources appears.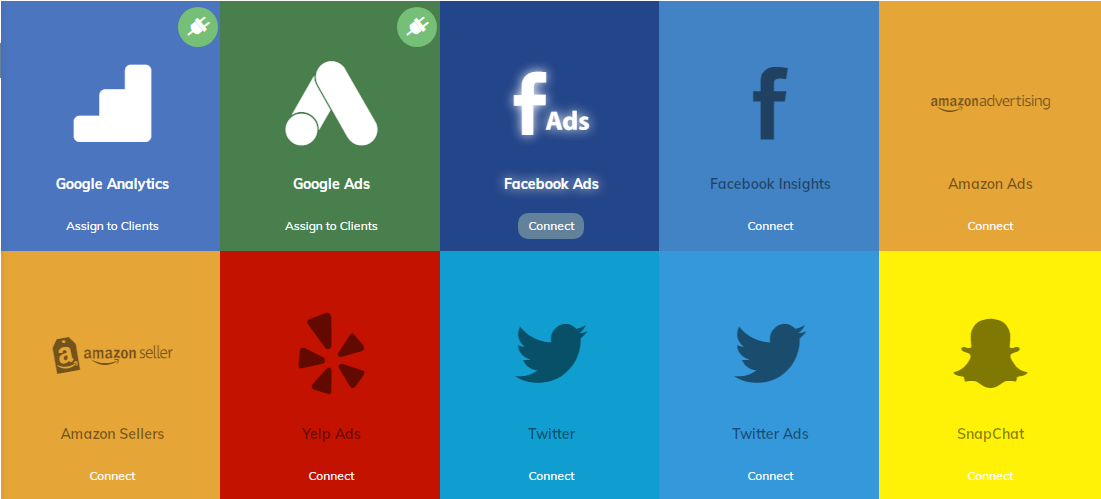 6] To locate the OneView data source, either scroll through the list of data sources or enter the data source into the search box in the upper right (results appear automatically).

7] On the OneView data source, click Connect.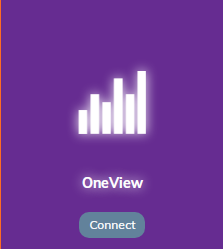 8] The Add account popup appears.

9] Enter the string from step 3 into the Code textbox and click Add Account.
Note: If you can't establish a connection, it's possible that the files have not yet been posted to the S3 bucket yet. If this is the case, try reaching out to your OneView Customer Success Manager or customercare@tapclicks.com for assistance.
10] To assign your OneView data to a TapClicks Client, on the left side click on the data you want to assign.
11] To assign it to a client, on the right side choose a client from the existing client dropdown or create a new client to assign it to.
12] Edit General Settings, Additional Information and Primary Contact Information as needed and then click Assign Client.
13] To view the status of your connection, click Connection Status in the Data Management menu on the left.
14] After the data source is connected, an initial data fetch will occur. Each data source has a different Lookback period. The Lookback period determines the amount of historical data that is fetched. It is measured in months, weeks, or days.The specific lookback period for each service can be found on the connection's status page. After the initial data retrieval, you're ready to use your Roku data in reports and analysis.