What is a Smart Connector?
A Smart Connector is way of pulling data that does not have an existing integration with TapClicks into the TapClicks platform.
Creating a Smart Connector is easy.
Simply import your data files manually or by using FTP / SFTP / Google Drive / Dropbox. After creating a Smart Connector , you will have to map the Smart Connector data to a client in order for it to be visible on a dashboard. Prior to displaying on a Dashboard you will need to click Update Dashboard. After this, the system will start pulling the data from your Smart Connector. Once you complete all steps and create a Smart Connector for desired Data Source, you can start creating Reports using all features of TapClicks.
After making this connection, when you add new files to the Smart Connector location (Google Drive, Dropbox, FTP, etc.), the Smart Connector will update this automatically at the normal interval of updating all data sources.
What are Delivery Types?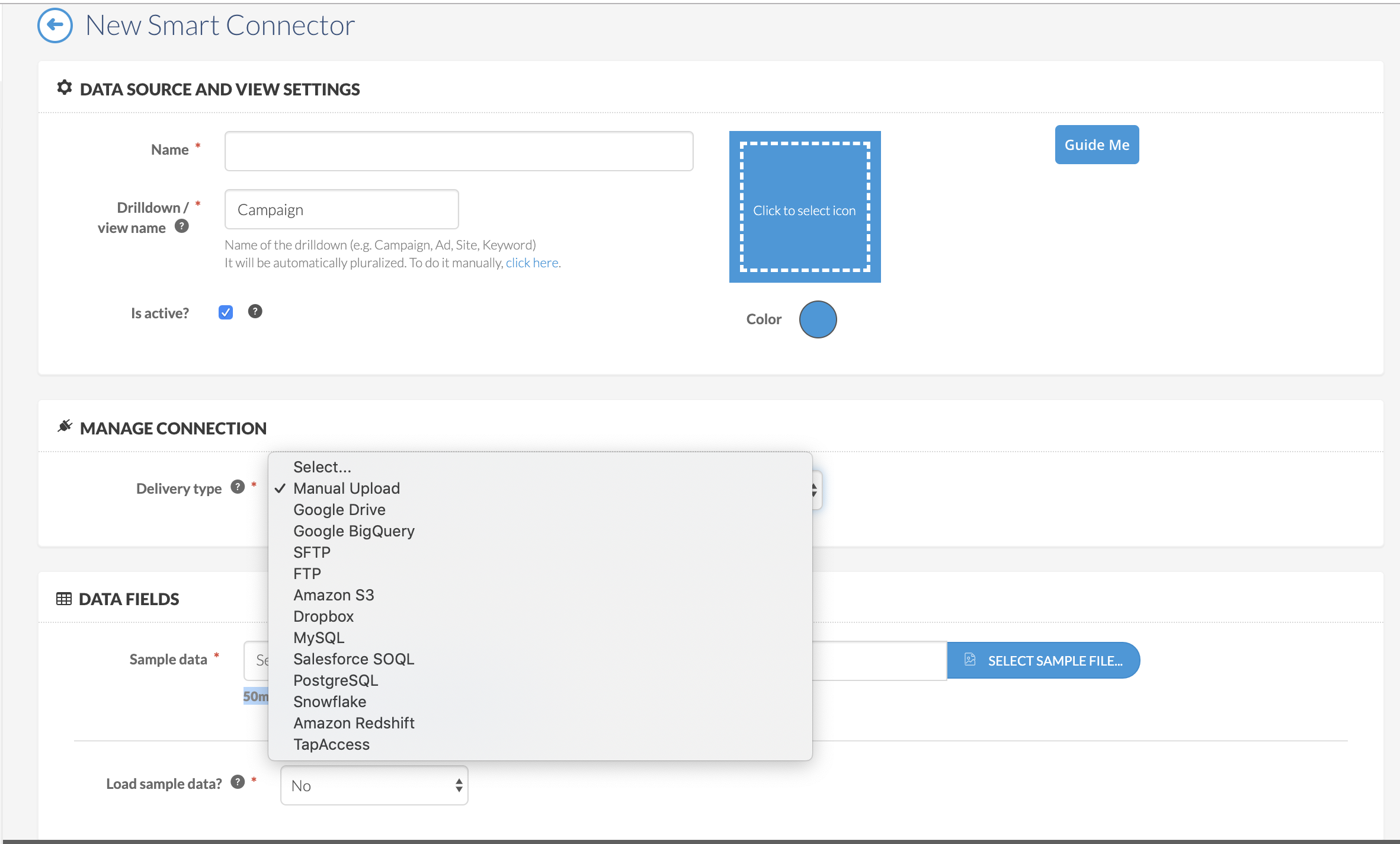 When creating a Smart Connector, you will note there are several different ways to bring data into the system. These are called Delivery Types and show up on the drop down with that name. The following Delivery Types are currently supported:
Manual Upload (.csv file or similar)
Google Drive
Google BigQuery
SFTP
FTP
Amazon S3
Dropbox
MySQL
Salesforce SOQL
PostgreSQL 
Snowflake
 Amazon Redshift
TapAccess
[Video] How to setup a Smart Connector
Manual upload file types
The Smart Connector provides an option to connect using csv, tsv, xlsx and odf file formats, provided the data is formatted correctly.
Sample file best practices
We recommend that your sample file has at least 2 rows in it. One for the column headers and one as a sample of how the data might be in those rows.
The reason for the second row is that the system will make suggestions for the field type based on what it sees in that row. If the system see number characters, it will suggest a number field. If it sees a dollar sign, it will suggest currency. If it sees a date-type format, it will suggest date. If you don't create second row, the system won't give you suggestions for your field type. You can still set those yourself in the configuration.
File size: You can use something as small as a file with only the header row in it, or up to 10 MB. In the case of .csv files , system can support files that are larger than 10 MB.
System will pull data from the sample file if you select an option Load Sample Data. If you include this setting, then the system will look at the sample file as well as anything from the defined pick-up location.
Please note that after creating a Smart Connector , it is not possible be delete it completely. It can be made inactive or the name can be White labeled (re-named) but it remains in the system, so decide your long term plans before creating a Smart Connector.
How to deactivate a Smart Connector
You cannot delete a Smart Connector, however if you want to remove them from your list, use the following steps:
Click on Administration
Click on Smart Connector
Find the Smart Connector you want to set inactive
Click the pencil icon to edit
Then deselect the Is active? box
Click Save Changes and you are all done!