Tasks, Workflows and Forms
Workflows are associated with Clients, Orders, Line Items and Flights. To learn more about Orders, Line Items and Flights, see Orders Overview.
Workflows are made up of Tasks and Forms.
Workflow: a series of tasks and the rules that control when they get created and assigned.
Task: is a work item that needs to be accomplished by someone.
Form: a web page with fields that need to be filled in.
The graphic below depicts the relationship between Tasks, Workflows and Forms.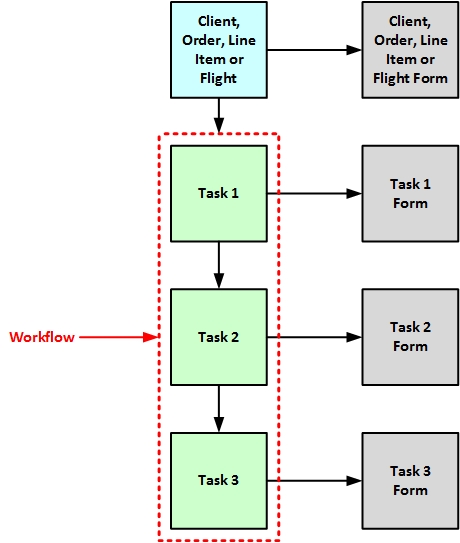 Whether you're working with a Client, Order, Line Item or Flight, there will be a form associated with it. There will also be a Workflow associated with it. That Workflow will be comprised of a series of Tasks and each one of those tasks will have their own Form to be filled in as part of the Task.
NOTE: If you use the free trial version of TapClicks, the Workflows and Forms will be template-based. Once you're under contract with TapClicks, you'll work with their internal team to customize Workflows and Forms to you particular needs.