Note: If you'd prefer to watch a video, see [Video] TapClicks Getting Started.
What is a Data Source?
A Data Source in TapClicks is any application or database used for analysis, insight, or reporting. By connecting Data Sources to TapClicks, you are able to blend them together and run analysis across all of them together, rather than in each individual application. In this way, TapClicks can be your database of record for all marketing and operational insights. Once connected, TapClicks will automatically fetch new data from your Data Source locations, update reports, and make the data available insight development.
Most users start by connecting applications using Instant-On Connectors. These are Data Sources that have a native integration with TapClicks and connecting them only takes a few seconds. Examples of common Instant-On Data Sources include:
Google Analytics
Google Ads
Facebook Ads
Amazon Ads
MailChimp
If you have data stored in Excel spreadsheets or other databases, no problem. You can bring that data into TapClicks too. You'll use Smart Connectors to do that.
TapClicks Architecture
The TapClicks architecture can be seen in the graphic below.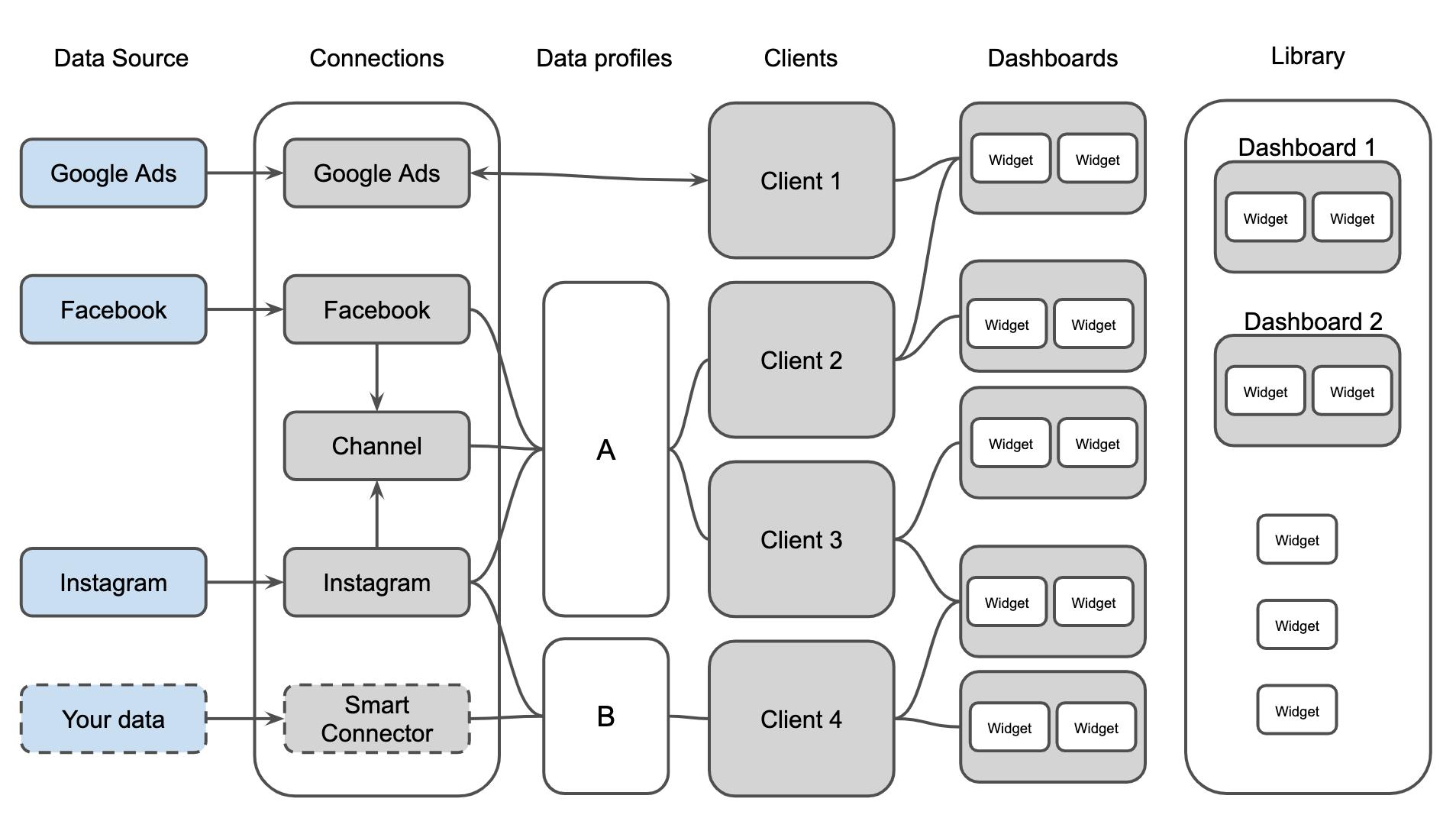 It may seem a little overwhelming, but as you develop familiarity with the platform, use this graphic as a reference for the relationships between major architecture components. For new users, it is best to focus on three main concepts:
Connect your marketing applications (Data Sources). We recommend connecting at least 4 Data Sources to begin with to develop familiarity with the process and make the most of TapClicks data transformation tools.
Once Data Sources are connected, you will need to assign clients and campaigns from those Data Sources for use in reporting.
Then create Dashboards and Reports for these clients.
How to Connect Your Data Sources
To connect your Data Sources to TapClicks, you'll use use a connector. There are two kinds of connectors in TapClicks:
Instant-On Connectors
Smart Connectors
TapClicks has partnerships with hundreds of the most popular data providers. If you need to bring in data from one of these data providers, you can take advantage of that by using an Instant-On Connector.
Data from Instant-On Connectors are already organized for your use in TapClicks reporting. You just authenticate with the data provider and that's it. There's nothing more to do. So, when you want to connect data from a third-party data provider to TapClicks, the first thing you should do is check to see if an Instant-On Connector already exists for that data provider.
What if an Instant-On Connector doesn't exist in TapClicks for your Data Source, or you want to use some of your own data residing in a spreadsheet? That's where Smart Connectors come in.
Smart Connectors provide a way to connect data using csv, tsv, xlsx or odf file formats. But be aware, Smart Connectors are only available for certain tiers of TapClicks service.
Quick Start Checklist
The five steps to get TapClicks up and running are shown in the table below.
| Task | Description |
| --- | --- |
| Connect your data | The core of TapClicks is the ability to connect multiple data sources together and develop insights based on all that data. The first level of data is at the Data Source level. Begin connecting the data sources you use to TapClicks so you'll have one place to see all their metrics in one place. |
| Map a client | This is the next level deeper in your data: data for specific clients or groups. To turn Data Sources like Google Analytics or Facebook Ads into actions, you need to tell TapClicks which clients you want us to fetch data for. We call this "mapping a client." Tell us which clients you want, and we'll enable you to run reports on their data. |
| Generate a Dashboard | Once you have data for your clients mapped, you'll plot their data on a Dashboard. If your data isn't available, you can build a Dashboard using sample data. Be sure to take advantage of Dashboard templates for the Data Sources you're using in the Library. |
| Create a Widget | After you've created a Dashboard, you'll populate it with graphs and tables to tell your data story. These graphs and tables in the Dashboard are called Widgets. |
| Schedule a report | After creating a Dashboard and populating it with Widgets, you'll schedule a Report. You an also export and share your Dashboards with internal and external audiences. |