Welcome to TapClicks
Learn TapClicks fast with these resources and guides.
1. The TapClicks System
Learn about the common terms and structures used in TapClicks. This video will help you learn how to navigate the platform confidently. 
 View more courses here: TapClicks Foundations 
2. What is a Data Source?
By logging into your accounts via TapClicks, you can run analytics across all of them without having to export to a third location. We automate the fetching of data so you can focus on the story, not building reports. To do that, you need to start by connecting your Data Sources. 
Examples of common Data Sources are:
Google Analytics
Google Ads
Facebook Ads
Amazon Ads
MailChimp
You may also have excel sheets or non-application data you stored for reporting. Use the Smart Connector for these sources. 
3. How to connect Data
The first step to developing insights about your data is to bring it all into one place. Here's how ... 
On the leftnav, select Data Sources
In that dropdown, select Manage Data Sources
You'll see a page like this:


Tiles for all established data sources 
At the bottom of the page you can setup Smart Connectors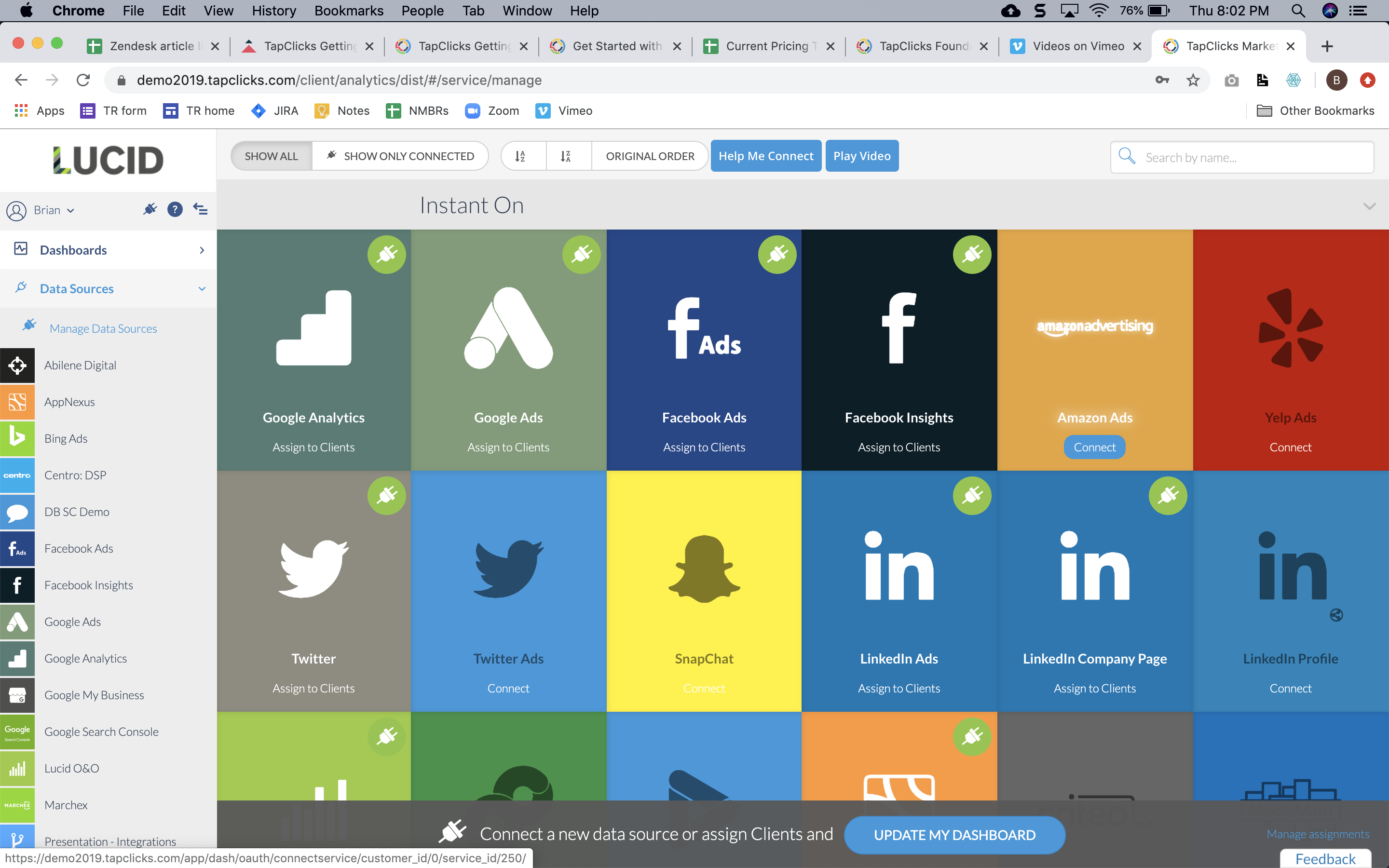 Select the application you want to connect 
Authorize the account using your credentials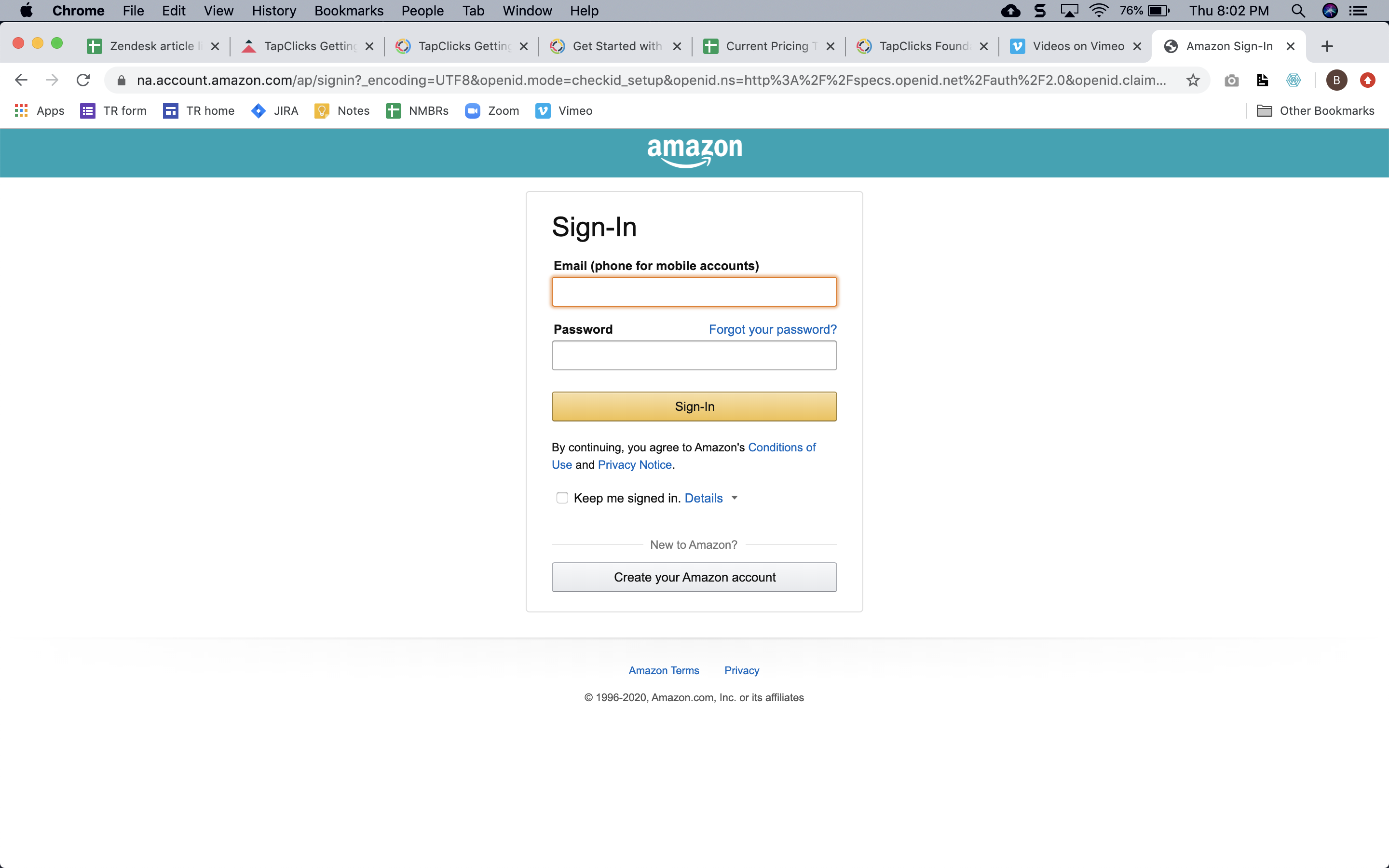 Connected Data Sources will display a green plug if they are active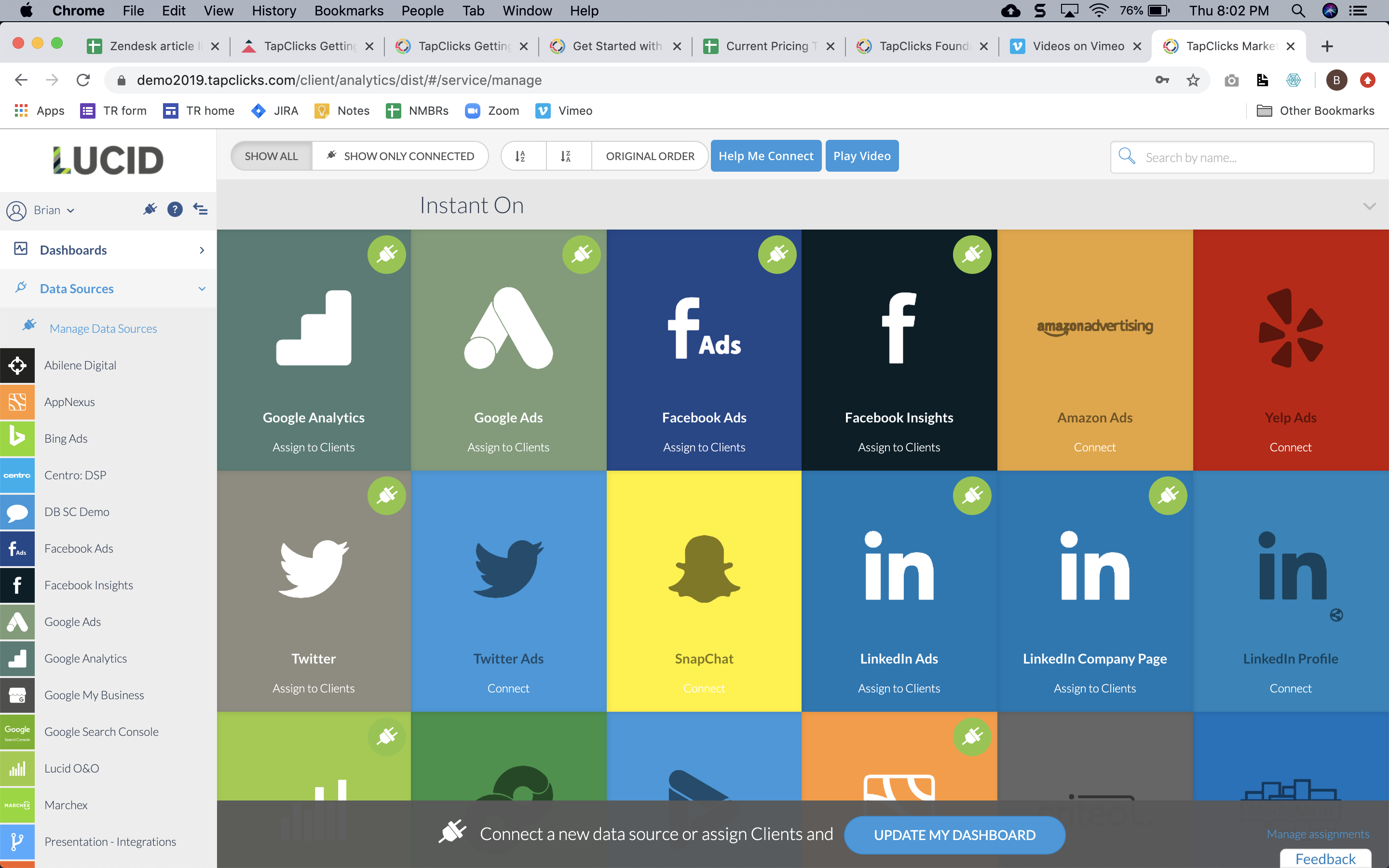 Once you have you're data sources connected, you're ready to map the relevant data to your clients. 
Note: Keep in mind that it can take up to 24 hours to fetch data for some applications. You can always use sample data to build reports and then populate them with real data once it's ready.
Videos
How to connect your data using the Instant-On Connectors:
How to setup a Smart Connector
Quick Start Checklist
Five steps to get setup in TapClicks. 
| Tasks | Description |
| --- | --- |
| Connect your data | The core of TapClicks is the ability to connect multiple data sources together and develop insights based on that data. The first level of data is at the Data Source level. Begin connecting the data sources you use to TapClicks so you will have one place to see all their respective metrics in one place. Without data sources connected, we can't show you insights!  |
| Map a client | This is the next level deeper in your data: Data for specific clients or groups. To turn Data Sources like Google Analytics or Facebook Ads into actions, you need to tell TapClicks which clients you want us to fetch data for. We call this "mapping a client." Tell us which clients you want, and we'll enable you to run reports on their data.  |
| Generate a Dashboard |  Once you have data for your clients mapped, plot their data on a dashboard. Your data may need some time to propagate. If your data isn't available, you can build a dashboard using sample data. Check out the dashboard templates for the data sources you are using in the Library.  |
| Create a Widget |  Once you've created a dashboard, create multiple graphs and tables to tell your data story. These graphs and elements on the dashboard are called "widgets."  Pro-Tip: Start with a report you already have and recreate it in TapClicks.  |
| Schedule a report |  After creating a dashboard, practice scheduling a report. Examine the options for exporting and sharing your dashboards with internal and external audiences.  |