Bubble charts are now available as a visualization type for data widgets in both dashboards and Report Studio. This powerful chart type adds a new dimension to data visualization, allowing users to seamlessly analyze and interpret data across three dimensions. In this article, we'll delve into the capabilities of the bubble chart, its advantages, and how it can improve your data analysis experience.
Understanding Bubble Charts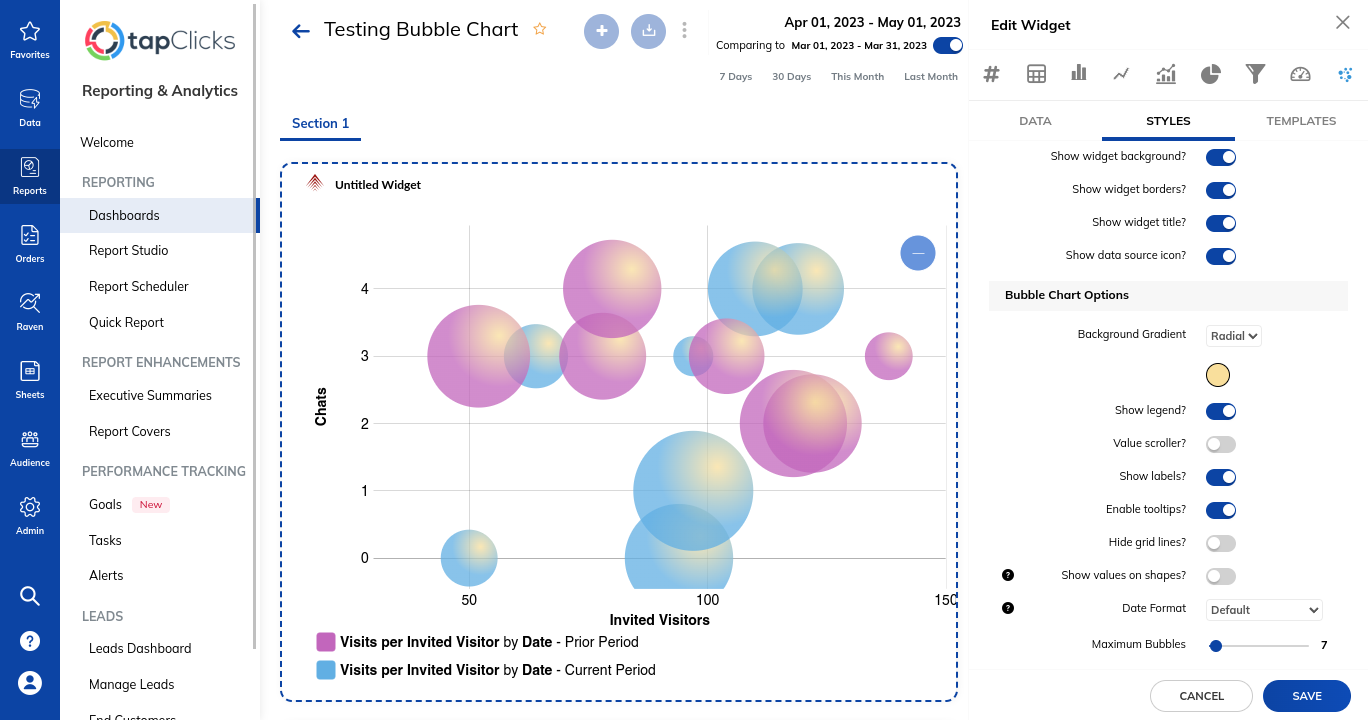 The bubble chart is a valuable tool for gaining insights into relationships and variations among entities, especially when dealing with complex data sets. The Bubble chart leverages the X and Y axes to represent two dimensions and utilizes the size of bubbles to convey information about a third dimension. This enables users to compare multiple data points simultaneously, offering a holistic view of complex datasets to gain insights into relationships, trends, and variations.
Benefits of Using a Bubble Chart
Gain a tri-dimensional perspective   
The bubble chart excels at presenting multi-dimensional data in a visually engaging manner. Incorporating three dimensions into a single chart provides a clear and concise representation of complex datasets. This feature empowers users to effortlessly visualize relationships and variances among different entities, fostering a deeper understanding of the data.
Comparative, in-depth analysis
One of the standout features of the bubble chart is its ability to facilitate effective comparative analysis. Users can compare multiple data points based on three dimensions, enabling in-depth examination of relationships and differences between various entities or categories. For instance, users can analyze the sales performance of different products by considering revenue, units sold, and profitability – all within a single, comprehensive chart.
Trend analysis over time
The bubble chart proves invaluable for tracking changes over time. By plotting data points with time on one axis, a numeric variable on another axis, and adjusting bubble size to represent a third variable, users can identify growth rates, market trends, or shifts in customer behavior. This functionality enhances the tool's utility for strategic planning and decision-making.
Elevation of campaign performance 
The bubble chart becomes a strategic ally for marketers engaged in visualizing and evaluating campaign performance. By comparing reach, conversion rates, and impact, marketers can make informed decisions about campaign prioritization, optimize spending, and allocate resources more efficiently.
Summary
Incorporating the bubble chart represents a significant leap forward in data visualization capabilities. This feature empowers users to glean deeper insights from their data, facilitating better decision-making across various domains. Whether you are engaged in complex data analysis, comparative assessments, trend tracking, or marketing campaign evaluations, the bubble chart opens up a world of possibilities.