Before you begin: This user guide details the steps for using leads management. Why use leads management? Enabling leads management facilitates the following:
Ease of import and export of leads via CSV files
Ability to manage leads data with additional notes such as quality and current status of leads
Capability of adding tags for qualifying leads
To use leads management, you must:
have access to the Leads Management module. If you do not have the required access, please contact your Customer Success Manager.
enable each of your clients for whom you wish to use this feature.
If you have questions about leads management features and capabilities, your best course of action is to contact your Customer Success Manager. To learn more about leads management, see the FAQs below.
What is leads management?
Leads management in TapAnalytics is a way for TapClicks customers to provide a light-CRM functionality to their clients, so that those clients may track their own leads in the TapAnalytics platform. When you use the leads management feature, you will be able to collect leads into TapClicks so you can automate actions and analysis.
Leads management uses two primary mechanisms for getting leads in the platform:
A Client can bring leads in through a variety of call-tracking services.
By using the TapLeads tracking code snippet that is installed on your client's web pages to collect form submission data.
What data sources are available?
The following data sources are currently supported in TapAnalytics to provide lead data to the Leads Management module:
Avanser
CallCap
CallRail
CallSource
Convirza for Advertisers
CallTrackingMetrics
Delacon
DialogTech
DudaOne
Facebook Ads
FreeSpree
Icontact
Marchex
Marketo
Responsetap
Salesforce
TapClassifieds
TapLeads
Telmetrics
TruMeasure
Twilio
Unbounce
Wufoo
How to Enable Leads Management for a Client
1] Login to TapClicks and on the Admin menu, click Clients.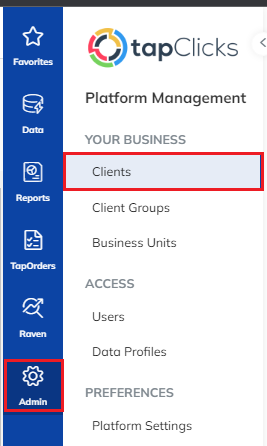 2] To locate the client for whom you want to enable leads management, either scroll through the list of clients or enter the client name in the search box (results appear automatically).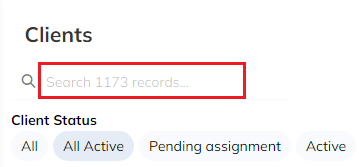 3] After you locate the client, on the far right, click the edit (i.e., pencil) icon.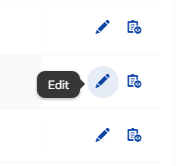 4] On the Settings tab, scroll down to the Leads section and slide the Enable Tap Leads? slider to the right.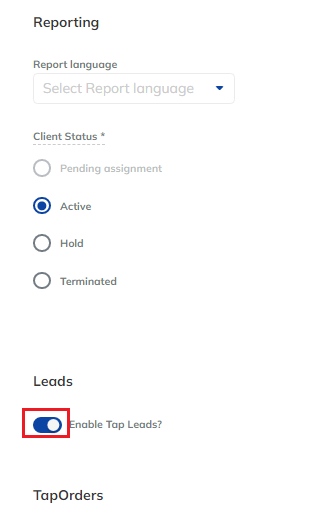 5] At the bottom of the page click Save.
6] Repeat steps 2 - 5 for each client you want to activate.
How to Use Leads Management
7] On the Data menu, click Data Sources.
8] On the right side of the Data Source Settings page, slide the Lead Collection slider to the right. This will enable TapLeads throughout your dashboard.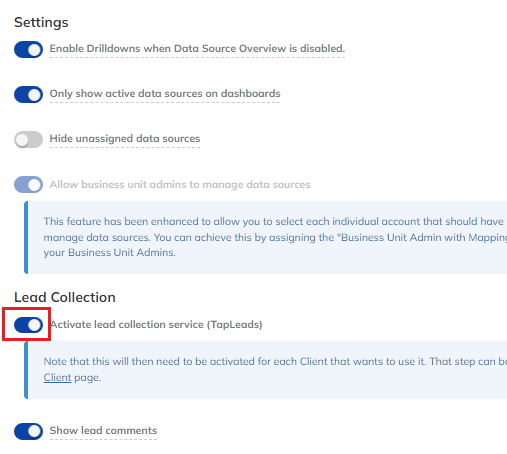 9] Optionally turn on lead comments by sliding the Show lead comments slider to the right.
NOTE: Once you've enabled leads management, the leads from those services will start flowing into TapAnalytics and you will be able to visualize them in a number of ways. Aside from the services listed above, users can also enable TapLeads which collects leads from form submissions. See this article on how to set up TapLeads.