What is a Business Unit?
Business Units are used when you require separate branding for groups of clients that are managed through the same TapClicks instance. For example, assume that supermarket chain Kroger is using TapClicks to generate sales reports for their branches in New York, SF and Boston. For each city, they have a separate Account Manager. Each branch will have numerous customers and products which will be included in the report. In such case, Kroger will be the parent brand but each Account Manager will use a separate Business Unit to generate city specific reports.
How to create a Business Unit
To create a Business Unit,
Click Administration in the left pane and click Business Unit.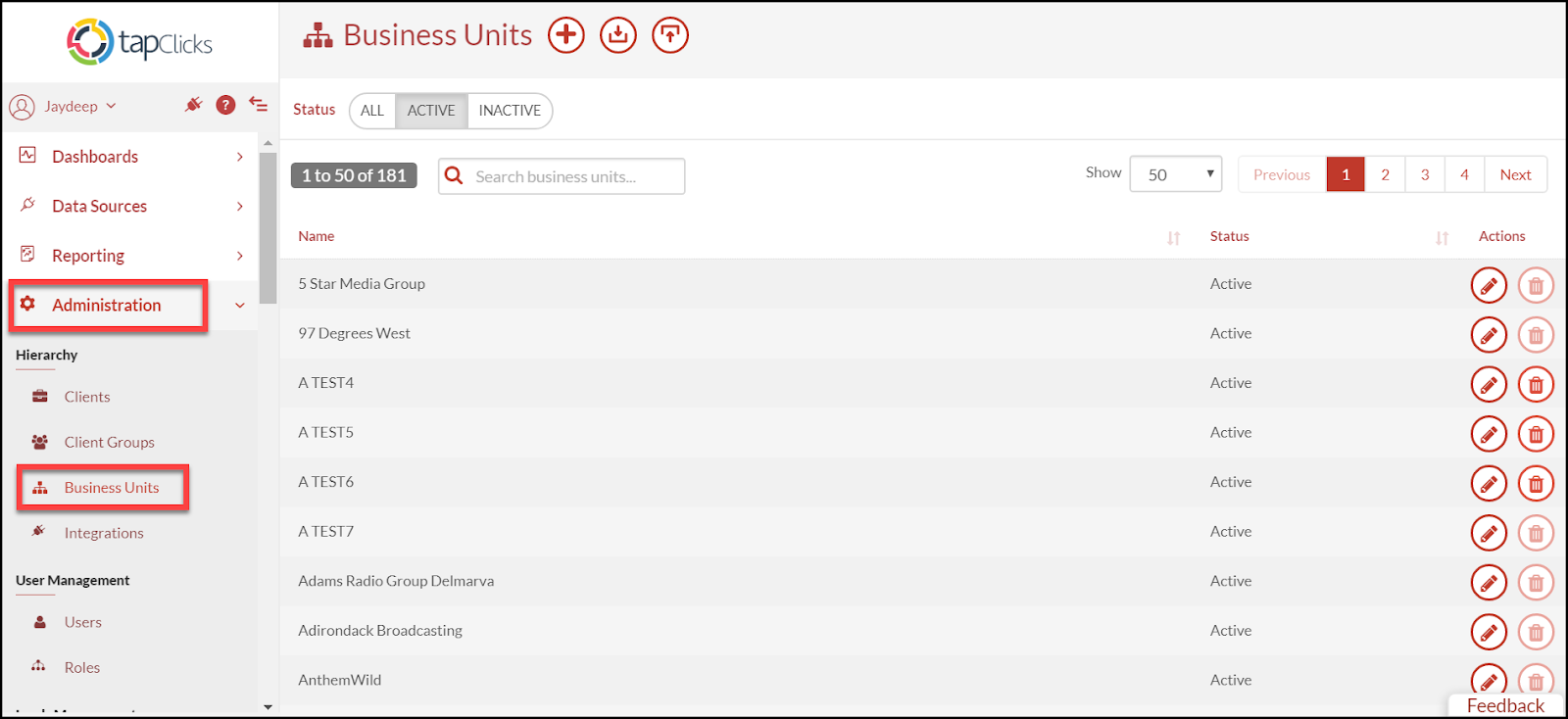 Click the plus sign (+) next to the header Client groups.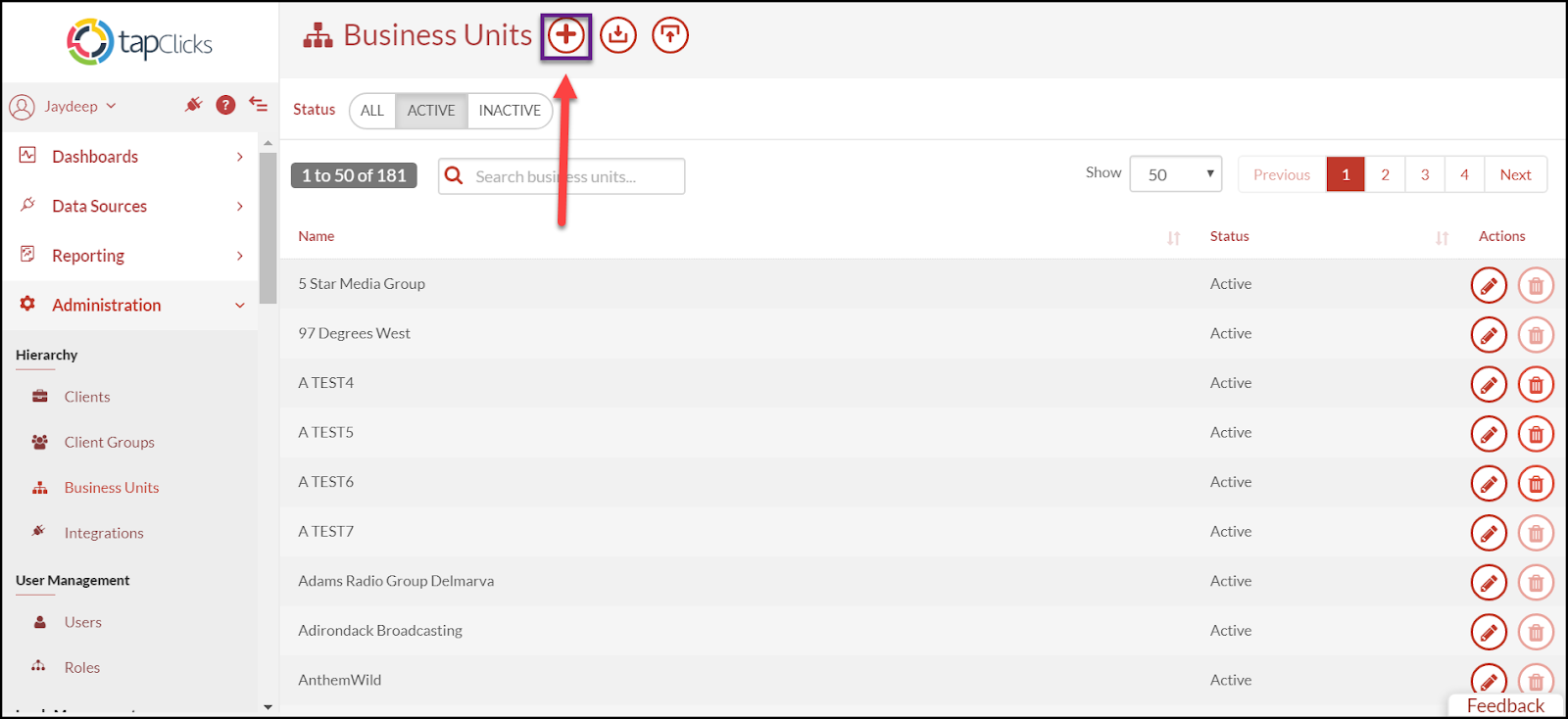 Choose the Business Unit type.
Enter Business Unit name in the provided field.
You can enter the External Business Unit Id, which is an optional field.
If you'd like the Business Unit to have its own Custom Branding, click Select logo and browse for an image for both dark and light backgrounds.
If you'd like the Business Unit to have its own Powerpoint Template, click Select Template and browse for a preferred template.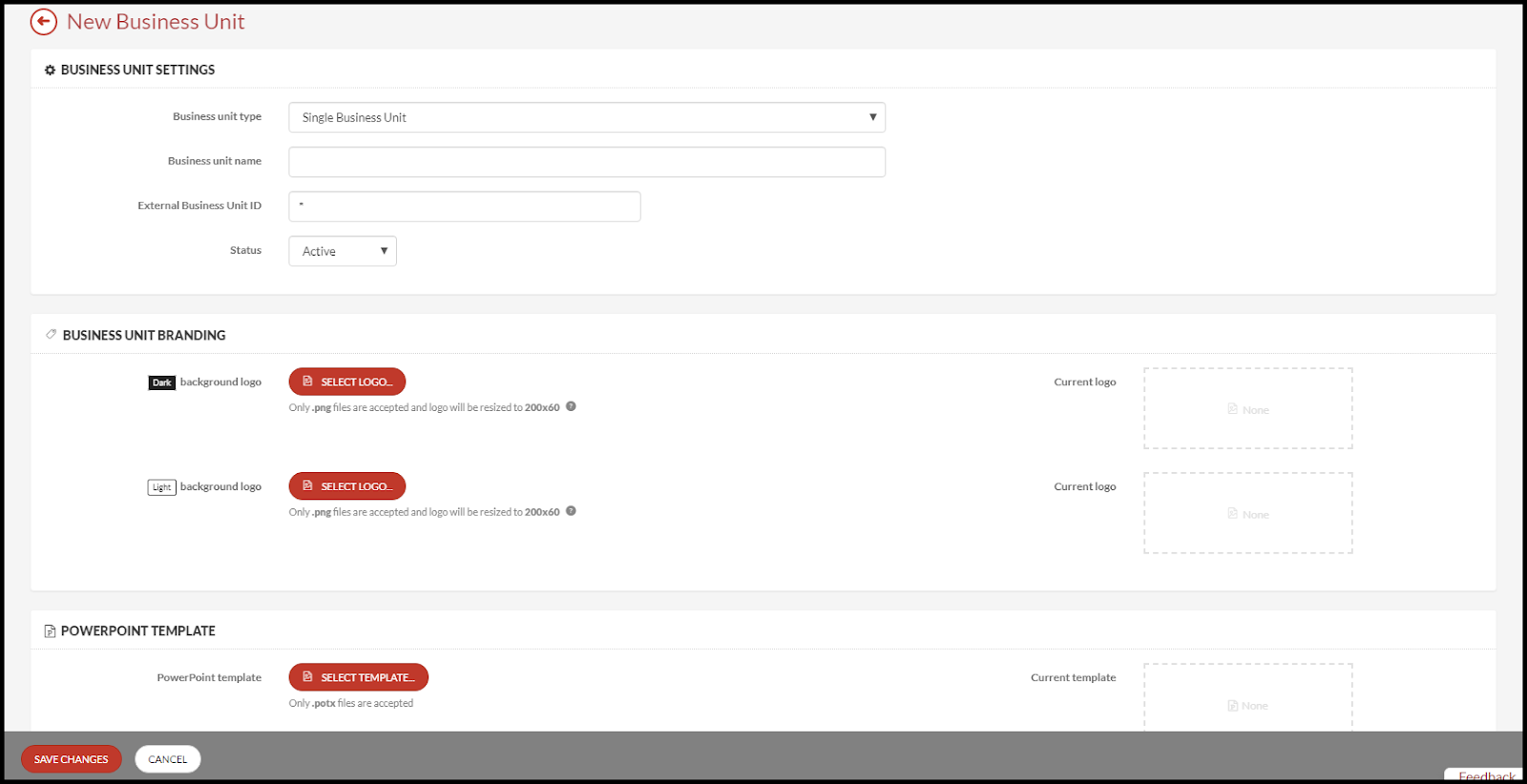 Click Save Changes and to create a new Business Unit.
Can I Import/Export Business Units?
Yes, TapClicks has an import/export feature for Business Unit. This feature which will particularly help you when you need to import/export in bulk. Please note that you can use only .csv file format for importing/exporting Business Units.
To Export the Business Units, click Export in line Business Units heading and select a location to store the file and the list will be saved on your computer.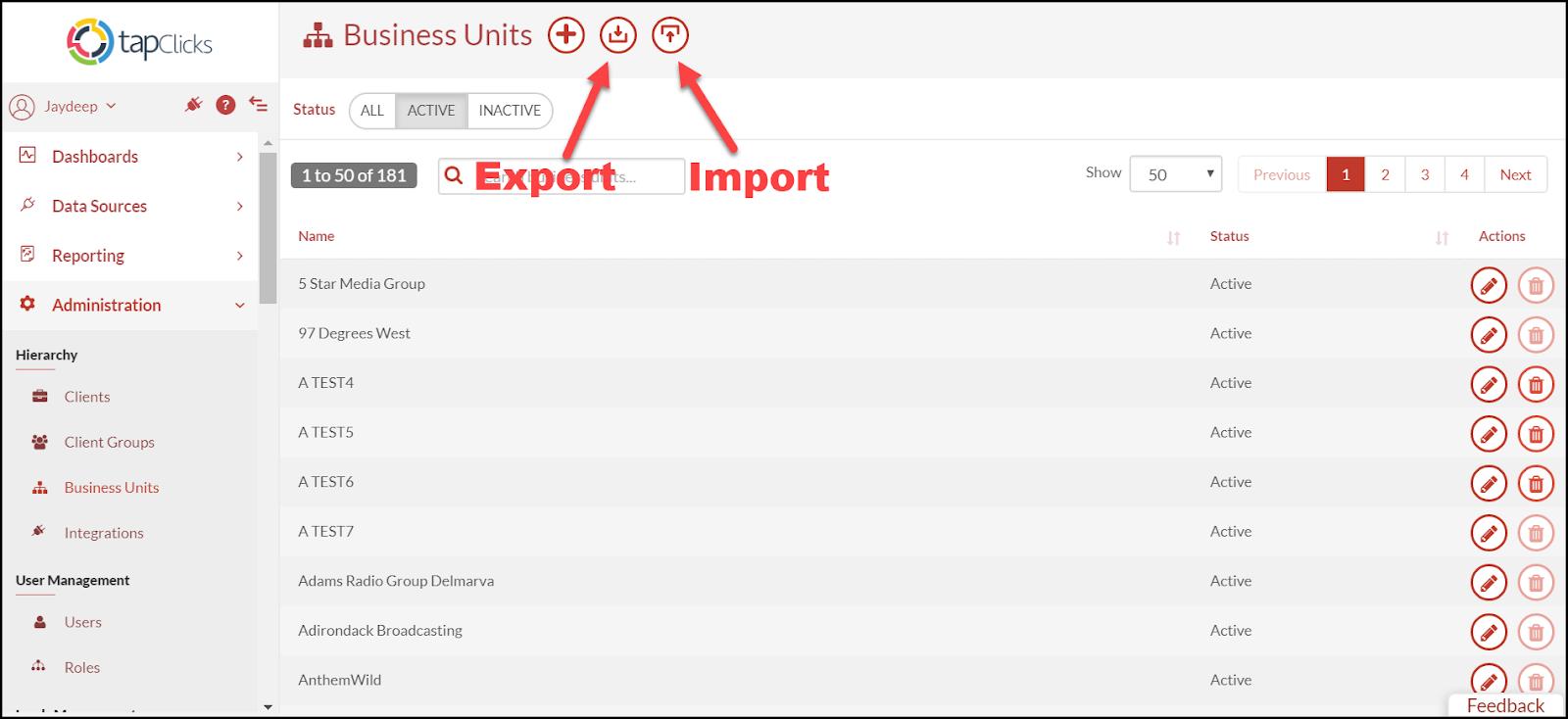 To Import the Business Units,
Click Import in line Business Units heading
Click Download CSV Headers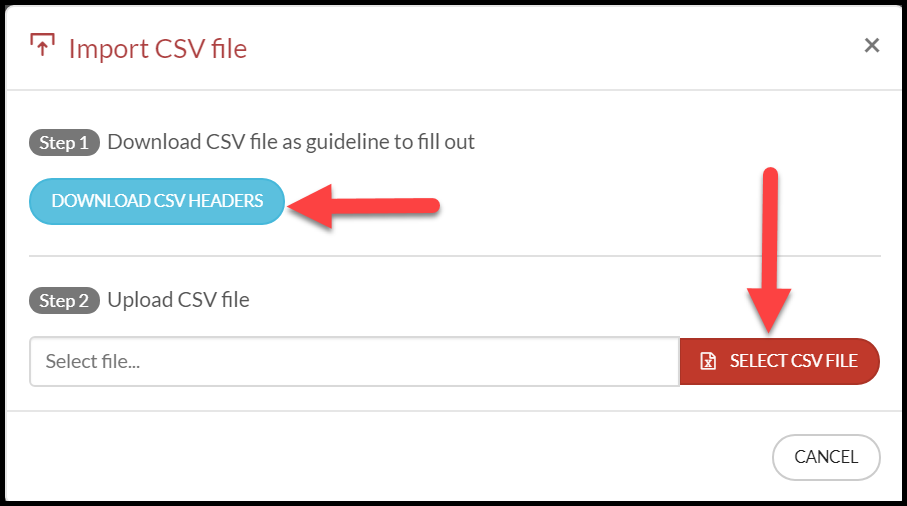 Save the file on your computer
Open the saved file, create a list of Business Unitsthat you wish to import and save it on your computer.
Return to TapClicks tab.
Click Select CSV file and select it from your computer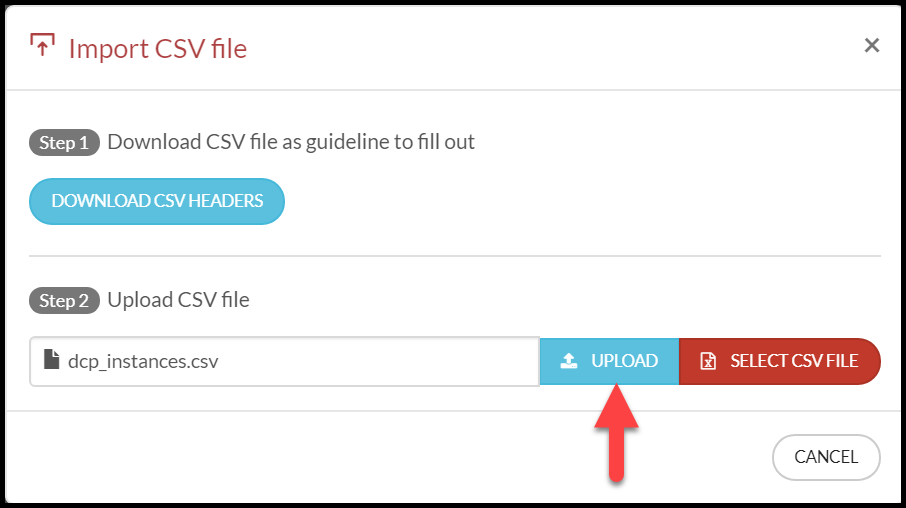 Click Upload and the file will be uploaded.
Details of your CSV file will appear on the Business Units screen.
How to Edit / Delete Business Units
To Edit or Delete the existing Business Units, navigate to Business Units screen.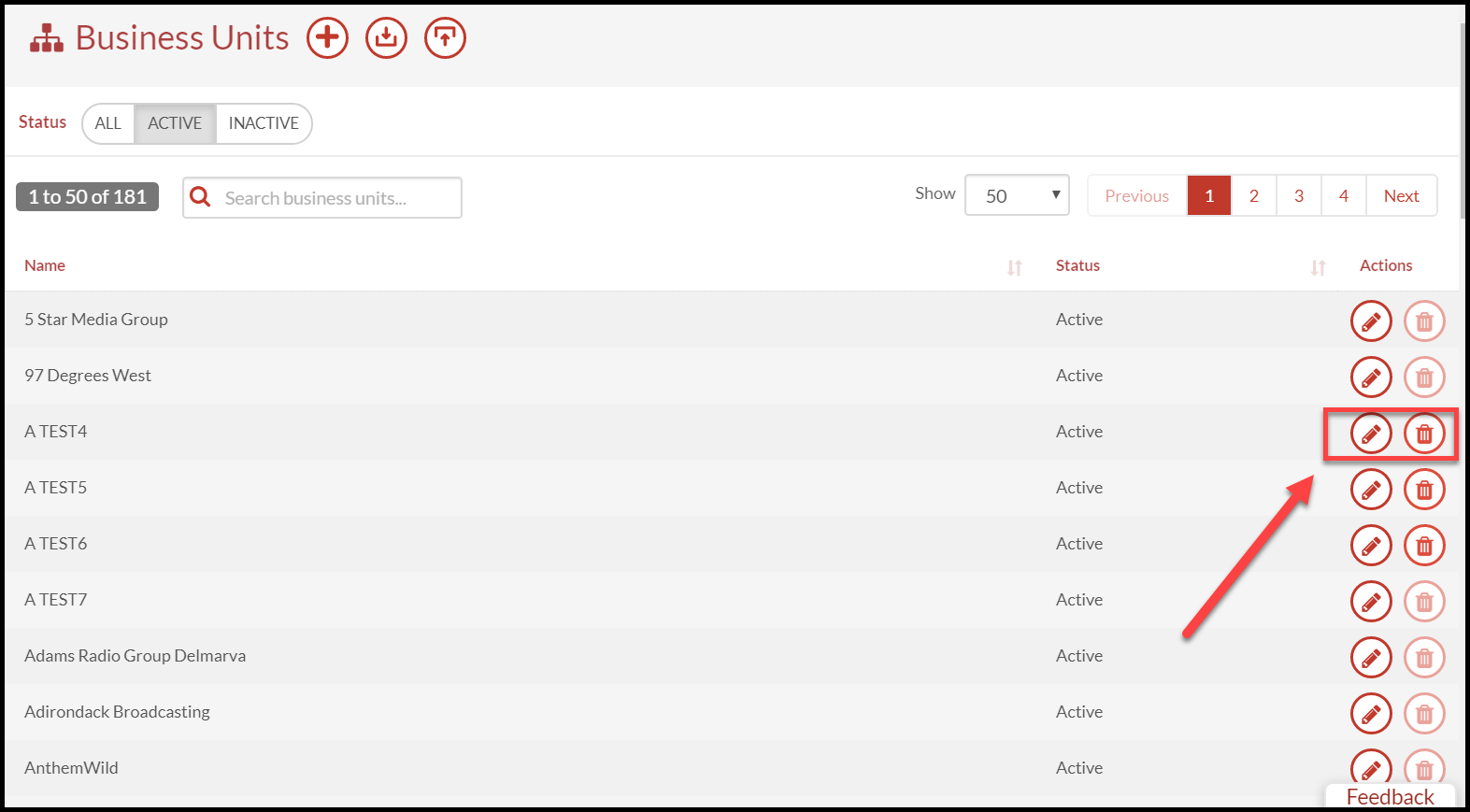 You will see


icons in line of every Business Units.
To edit a Business Units, click

icon and edit the details and to delete a Client Groups, click

icon.
You will find that some

icons are grayed out. It means that you can not delete these Business Units for the following reasons:
There is a Report scheduler using that Business Units.
It is also apart of a group of Business Units.
How to deactivate a business unit
Have you created Business Units in the platform that are no longer relevant and need to be removed? You can disable Business Units from all the drop-downs and selections on clients, users, client groups, and the Orders business unit selector.

A business unit cannot be deleted while clients, client groups or users remain assigned so these must all be reassigned to another business unit or inactivated prior to attempting to inactivate the business unit

When we edit that Business Unit, you notice that there is now a Status option showing Active. In this example the status option is grayed out because we still have client groups, clients or users associated to that business unit. Helper text under the question mark reminds the user why the business unit cannot be inactivated.

Once all the attached clients, client groups and users have been correctly reassigned or inactivated the status option is now made available and the user can set this business unit to Inactive.

Now that the unit is Inactive it will show when the "Inactive" button at the top is displaying Inactive Business Units.

And notice that business unit is no longer available in the client assignment dropdown or other areas where the business unit assignments are managed and in the business unit selector in Orders/Workflow.
Can a Business Unit Admin manage multiple Business Units?

Yes, a Business Unit Admin can manage multiple Business Units. The way you would go about doing this is to create a group of Business Units.