What are date ranges?
One of the most significant areas of value you get when using TapClicks is being able to see all your data from various sources, organized together by date. This enables you to draw insight from the data in ways that were either impossible or took a tremendous amount of time to generate.
Dashboards and reporting have a number of date range selector options. These include "pre-canned" date ranges such as "Last 7 days" or "Last Month". You are also able to select a custom date range based on the need of your reporting.
Date range options
The following date range options are available for you in TapClicks reporting features.
Notes: The Overall Date range is the date range that controls all of the data within the entire dashboard, not just in the custom dashboards. When viewing a custom dashboard all widgets will show data from the date range specified.
Custom – where you can define the range yourself
Today
Yesterday
Last 7 Days
Last 14 Days
Last 30 Days
Last 90 Days
This week
Last week
This month
Last month
Last 3 months
Last 6 months
Last 12 months
This quarter
Last quarter
This year
Last year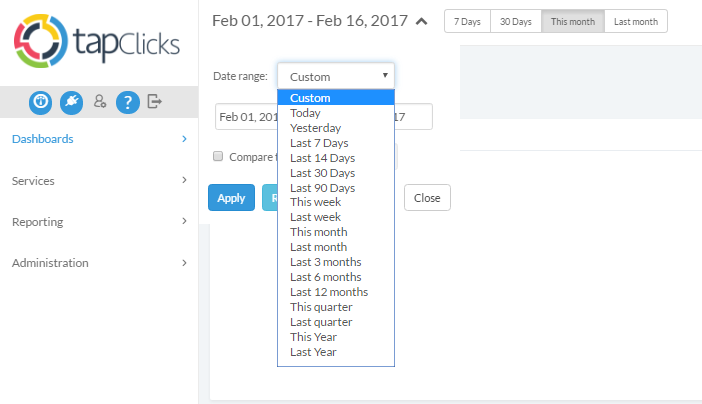 How to Override Individual Widgets
This will allow you to alter the date range for a specific widget without impacting any of the other data in other widgets. The ability to override date ranges for a specific widget is beneficial for when you want to show comparisons for different date ranges.
Click on the three dots in the top right-hand corner of the widget you want to override the date range for
Click the Filter data option
Select the option Date from the drop-down menu for Filterable Data Columns
Choose a date range from the Relative Date Range options or select a Custom Date Range
Click Save and you are done!