Before you begin: This User Guide shows you how to create a Dashboard. A dashboard is a way to share reports with internal and external teams. Think of the Dashboard as a container. Inside that container you arrange graphs, text, and images to tell your story with data. In TapClicks, these various graphs and text boxes are called Widgets. How to add Widgets to a Dashboard is covered in another document which you can find here. It's a best practice to use the same Dashboard for as many clients as possible. By using a a few Dashboard templates across several clients, you can scale your reporting operations.
How to Create a Dashboard
Dashboards enable you to build out custom landing pages and reports. Once you have a Dashboard, you can share a link to this Dashboard with clients or internal teams. When creating a Dashboard, you can choose from building one from scratch or using an existing template as a starting point. Once you create your dashboard, you'll be able to visualize the most important data for you and your clients at a glance.
1] On the left side menu, under Dashboards, click Add/Manage Dashboards.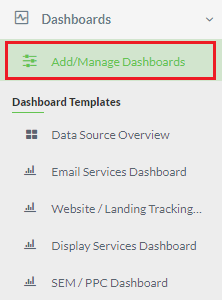 2] The Manage Dashboards screen appears with a list of existing Dashboards, if any.

3] To create a new Dashboard, click the "+" sign near the top of the page next to Manage Dashboards.

4] The New Dashboard screen appears with Dashboard templates which you can use as a starting point for your new Dashboard.
NOTE: Templates are predefined dashboards that come as a standard feature in TapClicks. The templates reflect channel-specific KPIs and metrics based on industry best practices. They were put together by industry analytics experts. You can use any of the templates as is, or modify them by adding or removing Widgets, or changing the look and feel. To use a template, you will have to make a copy of it.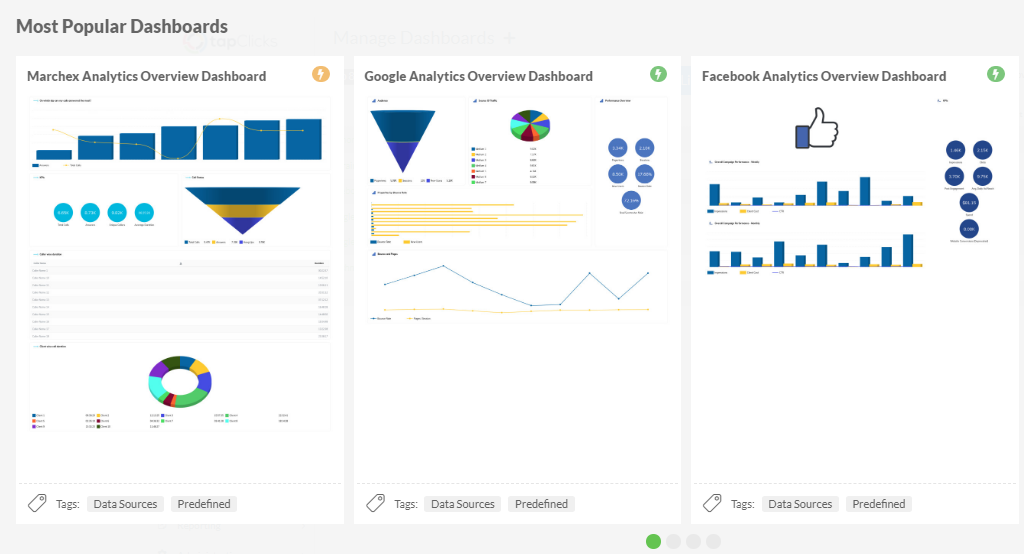 5] To create you own Dashboard, navigate to the top of the page and click the Create New Dashboard icon to the right of Build your own:

6] The New Dashboard modal appears.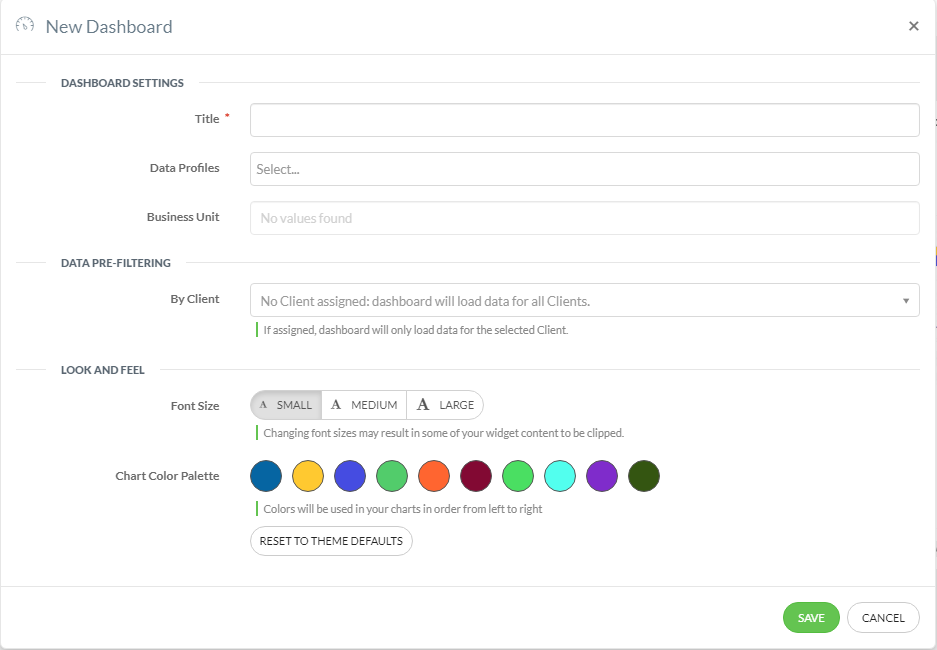 7] Enter a title in the Title textbox.
NOTE: If you don't have Data Profiles or Business Units configured, you can skip the next two steps.
8] From the Data Profiles dropdown, choose a data profile. If you don't have Data Profiles setup or don't use them, you can leave this blank. You can always change this later.
9] From the Business Unit dropdown, choose a business unit. If you don't have Business Units setup or don't intend to use them, you can leave this blank. You can change this later if needed.
10] From the By Client dropdown, choose the name of the client you want the Dashboard to load data for. If you leave this blank, the Dashboard will load data for all clients.
11] Choose a font size and palette color for your Dashboard.
NOTE: Choose colors to both align the reporting to your brand colors, as well as determine which order colors will be displayed on graphs. The first color in the row will be the color of the first line of a graph, the second will be the second line, etc.
12] Click Save to create your Dashboard. For the steps on how to add Widgets to your Dashboard, see How to Create Widgets.
How to Edit a Dashboard
Editing a Dashboard means changing any of the parameters which define the Dashboard. These parameters include Title, Data Profiles, Business Unit, Data Pre-filtering and the look and feel of the Dashboard.
13] To edit an existing Dashboard, navigate to that Dashboard and in the upper left, click on the More Options menu.

14] The More Options menu appears. Click Edit Dashboard.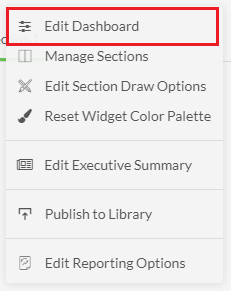 15] The Edit Dashboard modal appears. It is identical to the New Dashboard modal. See steps 6 - 12 for details. Your new settings will be applied to the selected dashboard after you click Save.