About Goals
The Goals module is an analytics product in the TapClicks suite designed to enable marketers, advertisers and Ad Ops teams to proactively monitor and visually track progress of campaigns. Goals empower users to make decisions on whether to continue, pause or tweak campaigns as per prescribed targets, and adjust marketing strategy accordingly.
Before you begin: Only a "live" goal associated with a campaign that is ongoing can be edited. A completed goal cannot be edited.
Instructions:
How to Edit a Goal
1] Login to TapClicks and on the Reports menu, click Goals.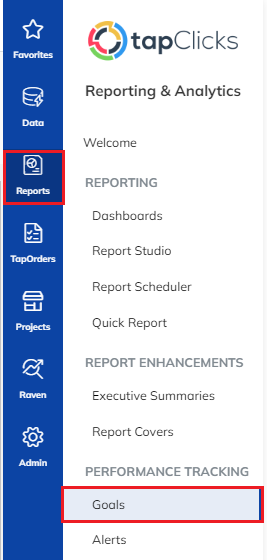 2] Click the Show More (i.e., three dot) menu icon in the upper right of the goal you want to edit.
3] From the popup menu that appears, click Edit.
4] With the goal edit option you can edit the goal target.
5] You can also edit the goal name.
6] Click Save at the bottom of the screen. The edited goal appears automatically.
To learn more about goals, please visit the https://support.tapclicks.com/hc/en-us/articles/1271102