What is a widget?
Widgets are the graphs and tables used in reports. Without a widget, there won't be a way to display your data. Once you create a widget, you can assign it a Data Source. For example, if you want to show impressions from Google Analytics, you will first create a widget then add the Google Analytics Data Source and choose Impressions to display in the widget. Once you create a widget,  you will be able to see your data on the dashboard.
How to create a widget
On the Dashboard screen, click CREATE YOUR FIRST WIDGET

On the next screen, you will have multiple options to create your Widget. There are three types of Widgets: Admin, Media, and Data. This example will show a Data Widget

.

Click

Data Widget

 in the top left corner and your new

Widget

 will appear on your

Dashboard
Choose your

Widget type.

Widget

types are essentially different types of graphs.

In this example, we will create a bar chart.
Enter your

Title

, select

Data Category

 and

Data View

 from the drop down. The

Data Category

 is the application where the data comes from. The

Data View

 is different for each

Data Category

 and is based on how information in that application is structured.

Select

Metrics, Dimensions

and

 Time By
To configure your

Widget,

c

lick

Styles

 next to the

Data

 tab

Select the style for your

Widget

. You can preview the changes in the

Widget

 immediately.

If you

wish to use existing templates, click

Templates

 next to the

Styles

 tab

 Select any template from the list

 Click

Save

 and you're done!
After creating Data, Media or Admin Widget and saving it, the newly created Widget will appear on your Dashboard.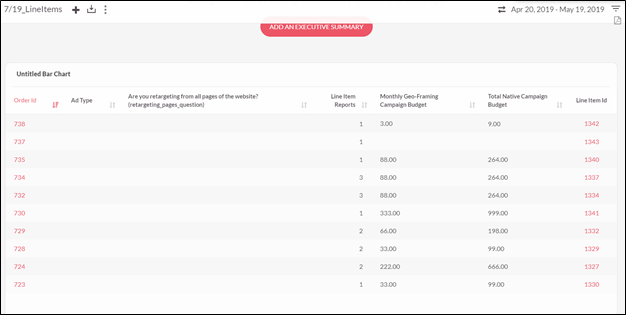 Your data will start populating the Widget and you will be able to generate Reports for your Clients. 
How to clone an existing widget
Cloning a widget allows you make a copy of a graph, table, or text field on your custom dashboard without having to completely configure a new widget. This will copy the entire widget configuration, filters, alerts and annotations.
Navigate to the widget that you want to clone
Click on the three dots in the top right-hand corner of the widget
Click Clone 
A pop up appears asking if you are sure
Click Yes
Scroll to the bottom of the custom dashboard to work with the cloned widget
Example of alert asking you to confirm cloning 
How to Move Widgets
Click on the three dots in the top right hand corner of any widget
To move the widgets around, click on the four-way arrow in the center of the widget and drag it to where you want it located
Repeat the action in step 3 as needed.
When done click on the Done moving & resizing to save all the changes you have made
How to Resize Widgets
Click on the three dots in the top right hand corner of any widget
Click on the two sided arrow in the bottom right
The widget will have an overlay of smaller shaded boxes that are used to denote space on the custom dashboards.
You can alter the widget to be as big or as small as you would like. Note that when you resize the mouse is the bottom right box
Repeat step five as need
When done click on the Done moving & resizing to save all the changes you have made
Widget customization options
Go to the custom dashboard you want to edit
Click on the circle with three lines in the top right corner
Click on the ruler and marker icon to open the Dashboard Draw Options
There are four of them

Show widget background – Turning this on fills the background of the widget
Show widget boarders – Turning this on puts boarders around the widget to separate them clearly
Show widget title – Turning this on will show the title you chose for the various widgets on the custom dashboard
Show data source icon – Turning this on shows the icon for the service or category the widget pulls data from

Click to turn these on and off as desired
Click Save to save the changes you have made
Video tutorial on Widget creation