What is an executive summary widget?
Provide a better user experience for your clients by displaying insights and analysis directly on their dashboards. Need to provide insights on a specific time period? The new Executive Summary will not only let you comment on each Dashboard, but also on specific date ranges.
How to add Executive Summary
Since Admins are the only users that have the ability to create and edit dashboards, only Super Admin and Business Unit Admins (with the Manage dashboard ability) can enable the Executive Summary on a dashboard.
Go to your dashboard and open the More Options menu
Select 'Edit Executive Summary' and click the checkbox to enable it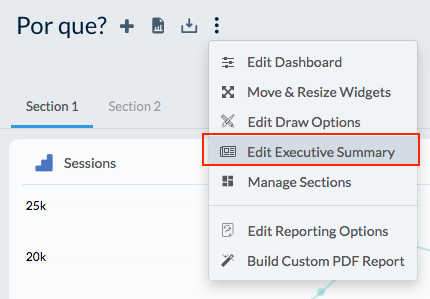 Please Note: Enabling the Executive Summary for a dashboard is essentially turning on the template/structure for that dashboard. Once the Executive Summary is enabled for the dashboard, then agent users can add unique content, for each client and/or date range.
How to add content to Executive Summary widget
Super Admins / Business Unit Admins / Agents can add content to an Executive Summary widget.
Go to the Executive Summary and click on 'Add an Executive Summary'
Select a client and/or date range to write a summary for
Enter insights for that client
To write a summary for a different client, select another client from the dropdown and enter insights for that client.
How to view Exec Summary for specific client
Go to the dashboard
Click on dashboard filter icon and select a client under 'View as Client'
The widgets and data on the dashboard will now be updated with that client's data. The Executive Summary widget will also now display the most recent summary for that client.
You can also use the Dashboard date range picker to display executive summaries that were assigned to that date range.

Notes
If the dashboard is a client-specific dashboard and has a client assigned to that dashboard, then the Executive Summary widget will always display summaries for that specific client.