Note: If you'd like detailed step-by-step instructions for using the Google Sheet Add-on, see How to Import Data From TapClicks Into Google Sheets.
Step 1 Install the Sidebar Add-on
In a Google Sheet, do Add-ons-->Get add-ons.
Enter TapClicks in the search box.
Click Install.
Step 2 Display the Sidebar Add-on and Login
Do Add-ons-->TapClicks-->Show Sidebar.
Enter your TapClicks instance.
Enter your email and password and click Login.
Step 3 Specify Import Data
Choose your data source.
Choose your data view.
Choose one or more groups.
Choose one or more columns.
Choose the date range.
Step 4 Specify Options for Displaying the Imported Data
Click Options.
Choose the row limit.
Specify sort by and direction.
Step 5 Apply Filters to the Imported Data
Select a field to filter on.
Select an attribute to filter on.
Click Add Filter to apply more filters.
Step 6 Finalize the Process
Either click Insert Data.
Or click Insert Formula.
Or click Save Query.
Step 7 Manage Queries and Set Refresh Settings
Click the menu icon in the upper left of the sidebar.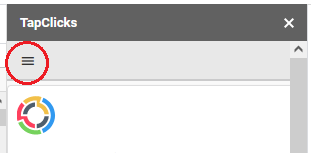 Click Manage Queries to use, edit or delete saved queries.
Click Refresh Settings to set the automatic data refresh frequency. NOTE: This only works for inserted formulas and not inserted data.