DISCLAIMER: It is possible for features documented in these Release Notes to have their release delayed. This happens in situations where we encounter unexpected software behavior prior to release. In such circumstances, a delayed release will be added to a future release.
Table of Contents
TapData
Exposed date filter for data sources
We have exposed date filters to specific data sources when building channels (see image below). Now, if users need to select a specific date range for data in their channel, they can do so. This is particularly helpful for users who want to have a specific cutover date when merging data from multiple data sources.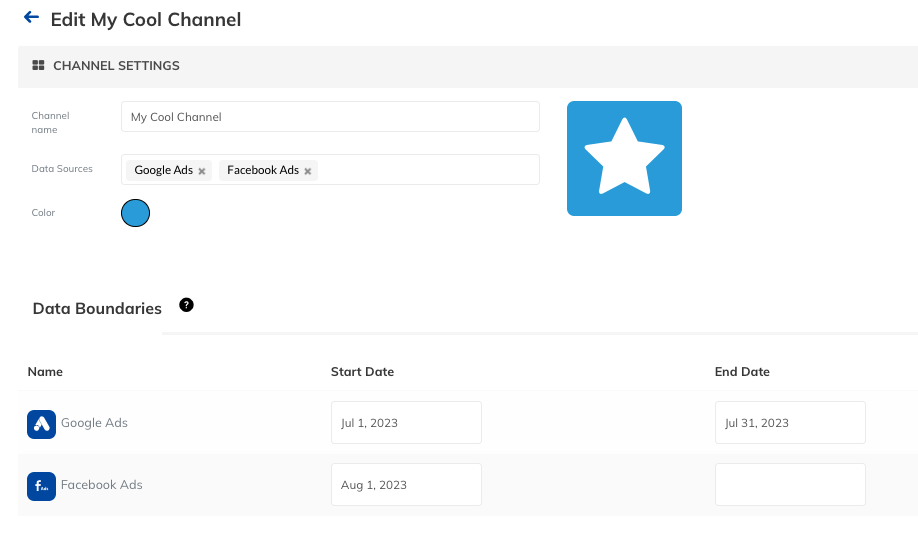 TapAnalytics
No longer aggregate goals with the same name but different IDs
Different goals, with identical names, are no longer aggregated in a data widget when grouped by goal name. This improves usability for data widgets that have goals with the same name.
TapReports
Improved geographic maps in widgets
We have added advanced geo-mapping to create more compelling mapping graphics, detailed boundaries, and topographical imagery. With this new feature, users have the ability to show campaign results by zip code, DMA, congressional district, and other boundaries.
This new feature is currently in beta on a very limited release and will soon be available as an add-on solution for a nominal monthly fee. If you are interested in joining this beta, please contact your CSM or customercare@tapclicks.com for more information.
Added conditional plotting
We have added the ability for users to define multiple rules and apply them to specific widgets or data ranges. This new feature provides conditional plot capabilities in TapClicks dashboards and widgets. The conditional plotting enables users to dynamically format and color code their data based on specified conditions. which means users can now tailor the formatting for each metric or KPI.
This new capability enhances the visual representation of marketing data, which results in readers being able to quickly identify trends, anomalies, and performance thresholds.
Instant On Connectors
Apple Search Ads - new connector
Apple Search Ads has been added as a new stored data connector. Clients who are utilizing Apple Search Ads and would like to use TapClicks dashboards and reports, can now connect to Apple Search Ads using Instant On connectors.
Yahoo! DSP - data view added
We have built out a new data view for conversion data broken out by Beacon and Package details within Yahoo! DSP. This data view enables users to see their conversion details in additional breakdowns in order to build out more robust reports.
TikTok - added field
We have exposed a field labeled "Ad Preview" to the Ads data view. This enables users to build visualizations that include a preview of the actual creative for better reporting to their end clients. If your TikTok connection was made prior to April 2023, re-authentication is required to take advantage of this new feature.
Google Ads - added field
We have added a data field labeled "Conversion Action ID" to the existing Conversion Details data view. Clients using the Google Ads connector can now report on Conversion Action ID using the existing Conversion Details data view.


Facebook Ads - added field
Data fields labeled "Custom Pixel Event" and "Custom Pixel Event Value" have been added to the existing Ads data view. Clients can now report on Custom Pixel Event and Custom Pixel Event Value using the existing Ads data view.

Xandr Invest - added data field
We have added video-related metrics to additional data views. Clients now have the ability to view and report video related metrics in additional data views. The included metrics are listed below:
Starts

25 %

50 %

75 %

Completions

Served

Skips

Errors

Start Rate

Completion Rate

Skip Rate

Cost Per Completion

The data views impacted are as follows:
DMAs

Sites

Creatives

Line Creatives

Devices

Line Item Devices

Campaign Split / Devices
To ensure you are leveraging these enhancements, please reach out to your Customer Success Manager or email customercare@tapclicks.com.
Google Ads - field added
We have exposed additional fields for margin and markup within the Conversion Extensions (upgraded) data view. This will help users report on their costs to their end clients when doing reporting.
Marchex - field added
We have exposed the field Study Name to the Call Details data view. This will help users of TapClicks report on their data in a more granular fashion for their end clients.
The Trade Desk - adjusted field labels
We have adjusted data field labels. Clients will now see the data field label "Sampled Viewed Impressions" vs. the previously named label "Creative Was Viewable." In addition, clients will now see the data field label "Sampled Tracked Impressions" vs. the previously name label "Creative Is Trackable." The purpose of this enhancement was to reduce confusion between the TapClicks reporting and The Trade Desk reporting.

Google Analytics 4 - Custom Dimensions support added
TapClicks now supports Custom Dimensions for Google Analytics 4. With this update users are now able to define DIY data views that include these custom values and report on them to their end clients creating a more robust report.
Google Ads - data views renamed
We have renamed existing TapClicks data views to reflect the current report names from Google Ads. The goal is to make it easier for users to determine which data sets equate to what in the Google Analytics 4 UI. The data view renames are as follows:
Conversion by Metro (Geo Data) → Conversion by Metro (Matched Location)

Geo → Matched Locations

Geo Extended → Matched Locations with Location Type

Campaign Location → Targeted Locations

Geo by Ad Group → Matched Location by AdGroup

User Location → Location of Presence (Matched Location)
LinkedIn Ads - templates added
We have introduced two new templates which can be used in both the dashboard and Report Studio (see image below). The two templates are Campaign Performance and the Standard Metrics. These new additions simplify and optimize users' LinkedIn advertising efforts, by providing them with insights needed to enhance their campaigns and achieve better results.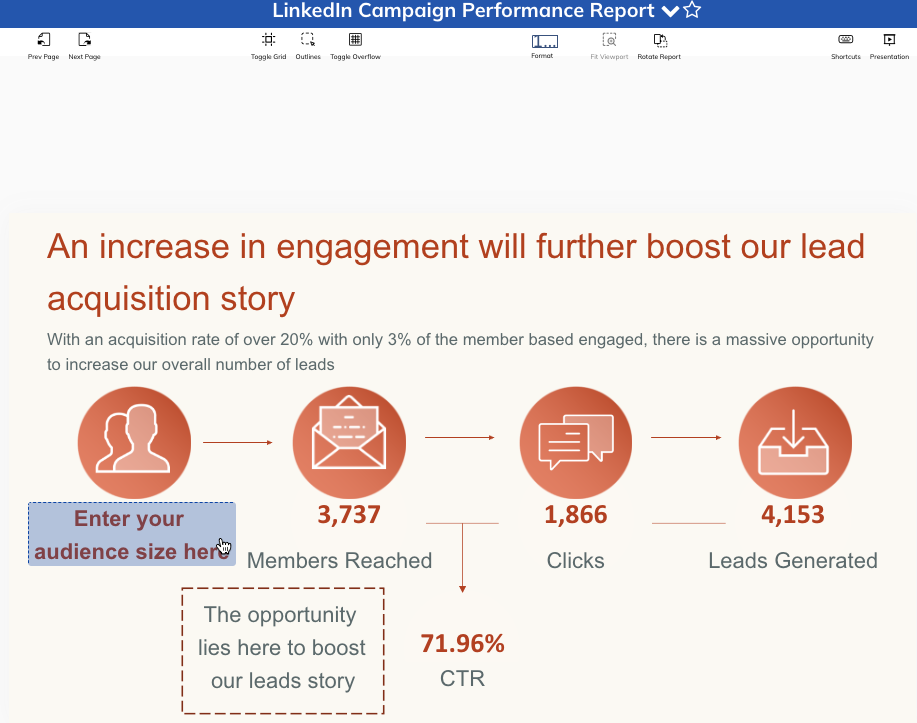 Google Ads - upgraded API
We have upgraded the Google Ads API to ensure that we maintain data availability.